Joyous moment 25-year-old conductor wins competition with storming Berlioz symphony
28 March 2023, 17:14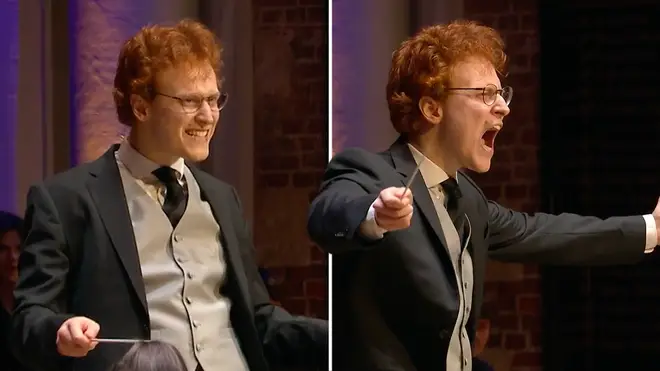 Watch as Nicolò Foron brings Berlioz, Grieg and Wagner to life with power and punch, in this prestigious biennial conducting competition...
This is the joy-filled moment that 25-year-old Italian-born German conductor, Nicolò Umberto Foron, led the London Symphony Orchestra in his winning performance at the prestigious Donatella Flick LSO Conducting Competition.
After beating out 80 other young maestros from across the UK and Europe, Foron said he was "ecstatic" and thanked the "magnificent players of the London Symphony Orchestra".
The final saw Foron compete against 30-year-old Czech conductor, Jiří Habart and 27-year-old Polish maestro, Jakub Przybycień, in a programme of the 'Prelude' from Wagner's opera Tristan and Isolde, 'In The Hall of the Mountain King' from Grieg's Peer Gynt Suites 1 and 2, and Berlioz's thrilling Symphonie Fantastique.
Judged by an esteemed panel of experts, the chair of the jury, LSO Principal Second Violin & LSO Chair, David Alberman, said Foron ultimately emerged as the winner due to his "outstanding combination of charisma, energy, technique and musicianship which demonstrated the greatest potential for an exciting future career."
Watch this exciting young maestro's invigorated interpretations below...
Read more: Gustavo Dudamel jokingly offers Cate Blanchett LA Phil conducting job, after seeing Tár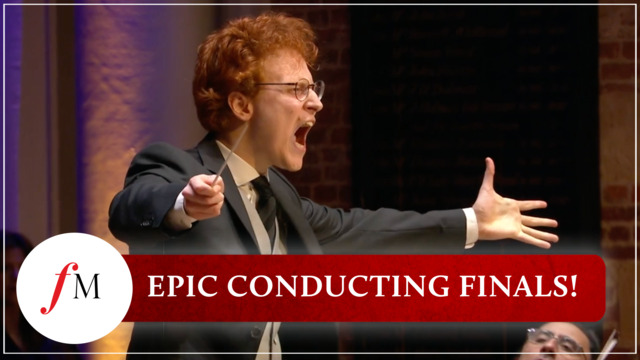 Phenomenal 25-year-old maestro Nicolò Foron wins international conducting competition
Open to young conductors aged 30 or under, the biennial competition this year took place over three days between Tuesday 21 and Thursday 23 March 2023, during which 20 conductors had the chance to conduct the London Symphony Orchestra.
Foron will take home a £15,000 prize from the competition, and will become the Assistant Conductor for the London Symphony Orchestra for up to one year.
"I'm just delighted to have had this experience, this journey," he added following his win. Foron's thrilling performances have since gone viral in a video on Classic FM's social media, garnering over 850,000 views.
Foron, who is also a composer and pianist, is currently the principal assistant conductor of Ensemble Intercontemporain, Paris, an ensemble Pierre Boulez founded in 1976 with the purpose of performing contemporary music.
In 2022 he was made one of the two Conducting Fellows at the esteemed Tanglewood Festival, and this season, he will debut with the Orchestre National de Montpellier, the Staatskapelle Weimar and the Gewandhaus Orchestra Mendelssohn Academy.
Foron's conducting talents were discovered at an early age and he began studying the art form at the age of just 9. After learning with Finnish conductor Jorma Panula, he began assisting American maestro, Lorin Maazel at the age of 15. A year later, he began studying at the Conservatorium van Amsterdam, before moving to London to study at both the Royal College of Music and the Royal Academy of London.
Read more: Classic FM's Rising Stars: 30 sensational musicians performing in 2023
Nicolò Umberto Foron: Donatella Flick Conducting Competition 2023 introduction
The Donatella Flick Conducting Competition was founded in 1990 with the purpose of supporting young conductors at the start of their careers.
In 1996, the competition developed a partnership with the London Symphony Orchestra, and a number of its subsequent winners have had their careers launched by the opportunity to assist the renowned ensemble, such as Elim Chan (2014 winner), François-Xavier Roth (2000 joint winner), Clemens Schuldt (2010 winner), and Alexandre Bloch (2012 winner).
The jury of this year's competition, which included incoming LSO Principal conductor Sir Antonio Pappano, is confident that Foron has a similar career trajectory awaiting him, with Alberman adding on the young maestros win, "We look forward to many more performances conducted by him!"