Daniel Barenboim talks exclusively to Classic FM: 'I am militant against instrumentalists who conduct'
28 April 2015, 12:37 | Updated: 16 June 2015, 14:24
The great conductor and pianist Daniel Barenboim has told Classic FM that the 'fashion' for instrumentalists to 'play-conduct' in order to spare a professional conductor's fee is a 'great shame'.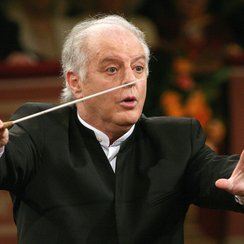 In an interview to be broadcast in full on Charlotte Green's Culture Club on Classic FM at 3pm on 10 May, the legendary conductor and pianist insisted it is important for conductors to be professionally trained.
"Conducting is a profession. The fact that you are a great pianist, violinist or cellist does not really give you licence to conduct," said Barenboim, adding that a professional conductor can help a soloist get the most out of an orchestra.
Instrumentalists who are not trained conductors, but insist on doing both when performing, find that the orchestra is "left to its own devices," he said, "and you are limited to saying cute things like 'Listen how I play this' and 'Can you do it like this?' But this is not conducting."
Barenboim himself has frequently conducted piano concertos from the keyboard. And on one of his most famous recordings – the complete Mozart Piano Concertos with the English Chamber Orchestra – he is credited as 'piano and conductor'.
Speaking to Classic FM's Charlotte Green, Barenboim blamed the growing trend for 'player-conductors' on "a lack of respect for the profession of conductor. I am very militant about that, because it has become fashionable mostly as a result of economic necessity to spare one fee.
"I think this is a great shame… They call it 'play and conduct'. They don't. They play without a conductor."
Daniel Barenboim spoke to Classic FM following two performances with the Staatskapelle Berlin at the Royal Festival Hall, which were part of the Southbank Centre's Barenboim Project 2015.