Barenboim to conduct concert at United Nations to mark Human Rights Day
7 December 2016, 10:38 | Updated: 7 December 2016, 10:41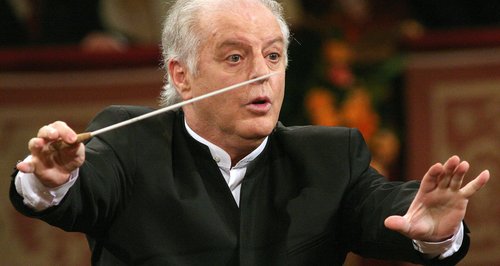 Daniel Barenboim and the West-Eastern Divan Orchestra mark Human Rights Day with a concert dedicated to human rights on Saturday 10th December at the United Nations' Palais des Nations in Geneva.
Conductor Daniel Barenboim will mark the United Nations' Human Rights Day by conducting the West-Eastern Divan Orchestra in Geneva on Saturday 10 December. The event, organised by the ONUART Foundation on the International Day of Human Rights, aims to draw attention to the human rights situation worldwide.
United Nations Peace Ambassador, globally-celebrated humanitarian, pianist and conductor Daniel Barenboim will conduct his orchestra of young musicians from across the Middle East in a programme of Haydn's Cello Concerto No. 1 with the young Persian cellist Kian Soltani and Mozart's Sinfonia Concertante.
"It is particularly important for me to shape this concert on the Day for Human Rights with the West-Eastern Divan Orchestra," Barenboim commented. "We are happy and proud to honour this day with its important message for the second time together with ONUART and the United Nations."
The West-Eastern Divan Orchestra, whose motto is 'Equal in Music', creates a space for dialogue and discussion between young musicians from Israel, Palestine, Syria, Egypt and other Middle Eastern countries. Co-founded by Barenboim and Edward Said, the orchestra was appointed United Nations Global Advocate for Cultural Understanding by UN Secretary-General Ban Ki-moon in February 2016 who praised the orchestra's work as "testimony to the power of music to break down barriers and build bridges between communities."
Many leaders from the worlds of politics, culture and economics will be in attendance at the concert as well as a worldwide television audience of nearly 300 million viewers. The concert will also be live-streamed on Fidelio for the first time.