Daniel Barenboim: 'It'd be exhilarating to spend 24 hours with Mozart'
14 November 2017, 10:45 | Updated: 14 November 2017, 10:55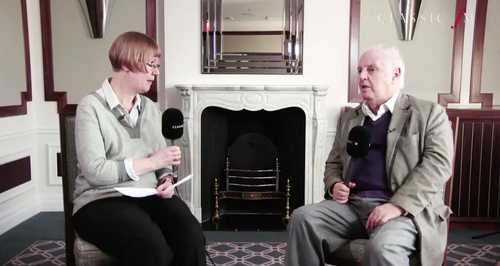 Daniel Barenboim speaks exclusively to Classic FM about his love for Elgar's music, why he'd like to spend 24 hours with Mozart and why the piano is like a blank canvas.
Daniel Barenboim is one of the most famous musicians in the world. And on 15 November he celebrates his 75th birthday. We're celebrating with a day of his performances on Classic FM. Back in 2015 he spoke exclusively to Classic FM's Charlotte Green.
'Elgar is a great composer – not only a great English composer'
"I get very annoyed when people say 'then he conducted the Second Symphony by the English composer Edward Elgar'. You don't say 'the Italian composer Giacomo Puccini'. There's something slightly belittling – in other words 'he's ok for an English composer'… Elgar is what he is and he's a great composer and great orchestrator and as such he has to be respected and liked – or not – on the quality of his works and not on his nationality."
"The piano becomes interesting only when you put colours on it"
"My father made me very aware very early on that the piano is a neutral instrument. Any weight you put on the keys produces sound. Try to do to that on the violin or the oboe and you get nothing. Therefore the piano is a very neutral instrument and the piano becomes interesting only when you put colours on it, when you orchestrate on it. The piano is like a white wall, the other instruments all have a colour – red, yellow."
"I am militant against instrumentalists who conduct"

"Conducting is a profession. The fact that you are a great pianist, violinist or cellist does not really give you licence to conduct."
"If you play and conduct and are not a conductor the orchestra is left to their own devices and you are limited to saying cute things like 'Listen how I play this' and 'Can you do it like this?' But this is not conducting, it shows a lack of respect for the profession of conductors. I get very militant about that."
"I think it'd be exhilarating to spend 24 hours with Mozart"
"I think Mozart was the only composer who had the perfect combination between seriousness, talent, genius – lightheartedness and facility. And I would find it so extraordinarily exhilarating to spend 24 hours just watching how he did things.
"I love Brahms's music too but I don't feel the need to spend 24 hours with him – maybe to share a good cigar with him."
He has great taste in footwear
Daniel Barenboim's recording of Elgar's Symphony No. 1 is out now