Alfred Brendel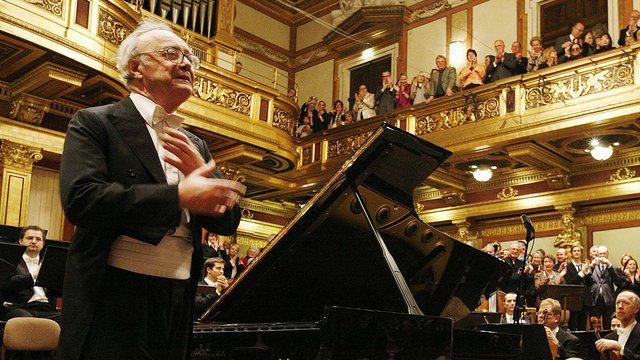 Alfred Brendel studied piano, composition and conducting in Zagreb and Graz and completed his piano studies with Edwin Fischer, Paul Baumgartner and Edward Steuermann.

Between 1958 and 1964 he was the first pianist to record Beethoven's complete piano works.

In 1998 Alfred Brendel celebrated the 50th anniversary of his professional debut with series that included solo and orchestral performances, chamber music, lieder recitals with Matthias Goerne, and readings of his poems.

With an extensive and award-winning discography, Alfred Brendel now records exclusively for Philips Classics. In 1996 Philips released a 25-CD box set entitled "The Art of Alfred Brendel", featuring a selection of recordings from throughout his career.

In 1992 he received the Hans von Bülow Medal from the Berlin Philharmonic and was granted Honorary Membership of the Vienna Philharmonic Orchestra in December 1998.

In 2001 he was the recipient of the "Lifetime Achievement" awards at both the MIDEM Cannes Classical Awards, and the Edison Awards in Holland. In 2002 he received the Leonie Sonning Prize, the Robert Schumann Prize and the 2002 South Bank Show Classical Music Award, and in 2004 the Ernst von Siemens Prize.

Did you know?
Besides music, literature has remained Alfred Brendel's foremost interest and second occupation. He has published poem anthologies and two books of essays, Musical Thoughts and Afterthoughts and Music Sounded Out, which won the 1990 Royal Philharmonic Society Music Award for writing.
View more
Best Alfred Brendel recordings
Most shared Alfred Brendel features