6 times the Strauss family had serious beef with each other
11 March 2019, 15:11 | Updated: 11 March 2019, 17:01
Promoted by Scotch Beef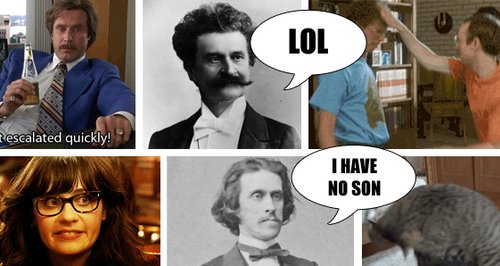 Here's proof that the Strauss family were a wife-spurning, career-ruining, score-burning bunch of maniacs.
Many great composers had beef, but this Viennese family was something special. With Scotch Beef, we're taking a look at some of the less-than-harmonious duets between members of the Strauss family and their acquaintances.
1. Strauss I and his best friend
Johann Strauss I's closest friend Joseph Lanner regretted the day he appointed his friend as 'vice-conductor' of his string orchestra. Strauss's popularity escalated and he planned to embark on a solo career. After a concert the two men gave together, they came to blows. Instruments were damaged and furniture was smashed. To add insult to injury, Strauss took 14 of Lanner's best musicians with him.


2. Strauss I and his wife
Johann Strauss I had seven children with his wife Anna and a further seven with his mistress Emelie Trampusch. It was an open secret in Vienna that he had two families and ran two households. A woman suing for divorce was almost unheard of at that time, but the furious Anna received universal sympathy for her situation and the divorce was granted with no complications.
3. Strauss I and Strauss II
Johann Strauss I deeply opposed his eldest son's desire to enter the musical profession. On Johann I's death, when Johann II announced that he intended to take over his father's orchestra there was furious reaction and even a suggestion in some quarters that Johann II's ruthlessness in pursuing his own career had hastened his father's early death.

4. Strauss II and his mother (and potential mother-in-law)
When Johann Strauss II fell in love with Olga Smirnitzky, a Russian aristocrat 13 years his junior, Olga's mother told him she and her husband were putting an end to their relationship. She stunned Strauss by claiming Olga was inspired by the devil. Strauss's mother Anna also gave him a stern talking-to, telling him to pull himself together.
5. Strauss II and his brother
When he was 37, Johann Strauss II also faced family opposition when he fell for Henriette Chalupetzky, a 44-year-old singer who had already had seven illegitimate children by her mid-20s, and had been the mistress to a banker for 18 years. His brother Josef, described Henriette as 'very well preserved'.
6. Eduard Strauss and his brother Josef
In September 1907, the last surviving Strauss brother Eduard had several thousand compositions on manuscript paper of his late brother Josef incinerated. Eduard claimed Josef asked him to destroy his unfinished works (possibly including a grand opera) in case they fell into the hands of others who might pass them off as their own. But it's equally possible that Eduard, to avoid unfavourable comparisons with his brother, found the works and destroyed them after Josef's death.