Soprano sings sublime 'Eternal Source of Light Divine' in echoing cloisters of Gloucester Cathedral
4 April 2023, 17:55 | Updated: 4 April 2023, 18:06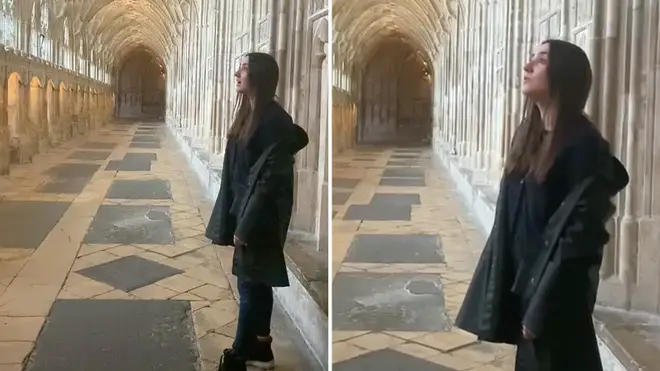 An impromptu moment of music is captured in one of the nation's finest Gothic cathedral acoustics…
Originally built in the 11th century as a home to monks, Gloucester Cathedral's great cloisters now make a heavenly concert hall for passing singers.
Last month, soprano Katie Marshall took an opportunity to showcase the cloisters' glorious acoustics, for the world to enjoy on Twitter.
Floating in the upper register of her range – and singing completely a cappella – she delivered a delightfully clear-cut rendition of Handel's 1713 cantata, Ode for the Birthday of Queen Anne.
Better known by its opening lyric, 'Eternal Source of Light Divine', the cantata was famously heard as the bridal entry music for the wedding of the Duke and Duchess of Sussex at St George's Chapel in 2018, with soprano Elin Manahan Thomas on those lofty, soaring lines.
Read more: Soprano and saxophonist's rendition of 'Eternal Source of Light Divine' will tingle your spine
Watch Marshall's performance, which has now viewed over a million times on Twitter, below.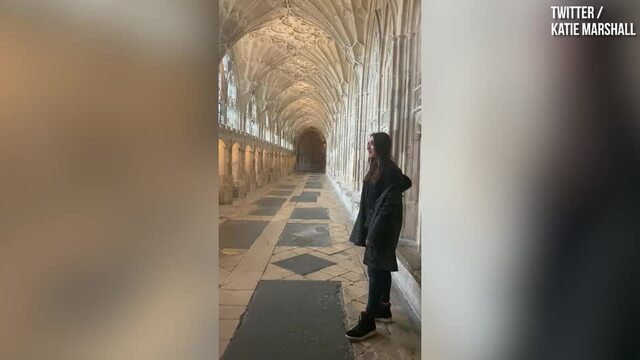 Singer performs acapella in the Cloisters of Gloucester Cathedral
The young star soprano was nominated in 2018 for a Classical Brit Award, and has performed at major venues across the UK including London's O2 Arena. Her Twitter feed is filled with her singing in unexpected places, including the historic Ponte Vecchio in Florence.
David Suchet, Poirot star and brother of Classic FM's John Suchet, commented on the video with a simple message to Marshall: "Thank you so much."
"Such breath control!" another commented. "Lovely… just too short a clip."
Another fan of Marshall's added: "I love how the Cathedral itself seems to be echoing your voice with joy."
The cloisters are considered the great architectural jewel in the crown of Gloucester Cathedral, and their magnificent and intricate 14th-century fan vaulting are considered the earliest surviving example of this design.
Read more: The UK's most beautiful cathedrals used in famous films
Once a home for monks, until the dissolution in 1540, the historic building has become the backdrop for some of modern history's best-loved films, including the Harry Potter franchise, and the 2018 Mary Queen of Scots starring Margot Robbie and Saoirse Ronan.