20th century music legend Pierre Boulez dies, aged 90
6 January 2016, 14:47 | Updated: 6 January 2016, 16:41
Classical music world mourns conductor, composer and music theorist - one of the leading exponents and practitioners of 20th-century music.
Pierre Boulez directed most of the world's leading orchestras from the late 1950s onwards. Revered as a conductor, composer and writer on music, he passed away at the age of 90, on Tuesday 5 January 2016 at his home in Baden-Baden, Germany.
Announcing his death, his family said, "For all those who met him and were able to appreciate his creative energy, his artistic vigour... will remain alive and strong."
Conductor and pianist Daniel Barenboim described Boulez as one of the music world's most significant composers and conductors. "Personally, I have a lost a great colleague, a deeply admired creative mind and a close friend," said Barenboim.
Discover: Here's why Pierre Boulez was basically a 20th (and 21st) century legend >
The French President Francois Hollande said in a statement, that "Pierre Boulez shone the light of French music in the whole world. As a composer and a conductor, he always wanted to reflect on his era."

France's Prime Minister Manuel Valls wrote on Twitter: "Audacity, innovation and creativity – that's what Pierre Boulez was for French music, which he made shine around the world."
Audace, innovation, créativité, voilà ce que fut Pierre Boulez pour la musique française, qu'il a fait rayonner partout dans le monde. MV

— Manuel Valls (@manuelvalls) January 6, 2016
Boulez had a strong relationship with contemporary music ensemble, the London Sinfonietta. Their principal pianist John Constable recalls
And Classic FM presenter and soprano Catherine Bott recalled working with Boulez when she was first with the Swingle Singers, fresh out of college. She remembered the "kindness and quietness and generosity and absolute lack of grandstanding by the maestro."
Trombonist Carol Jarvis played with Boulez and the London Symphony Orchestra in 2008.
Sad to hear of the death of world-renowned composer/conductor Pierre Boulez. Huge privilege to have worked with him. pic.twitter.com/aOvIsO2B8L

— Carol Jarvis (@jarvbone) January 6, 2016
The great experimenter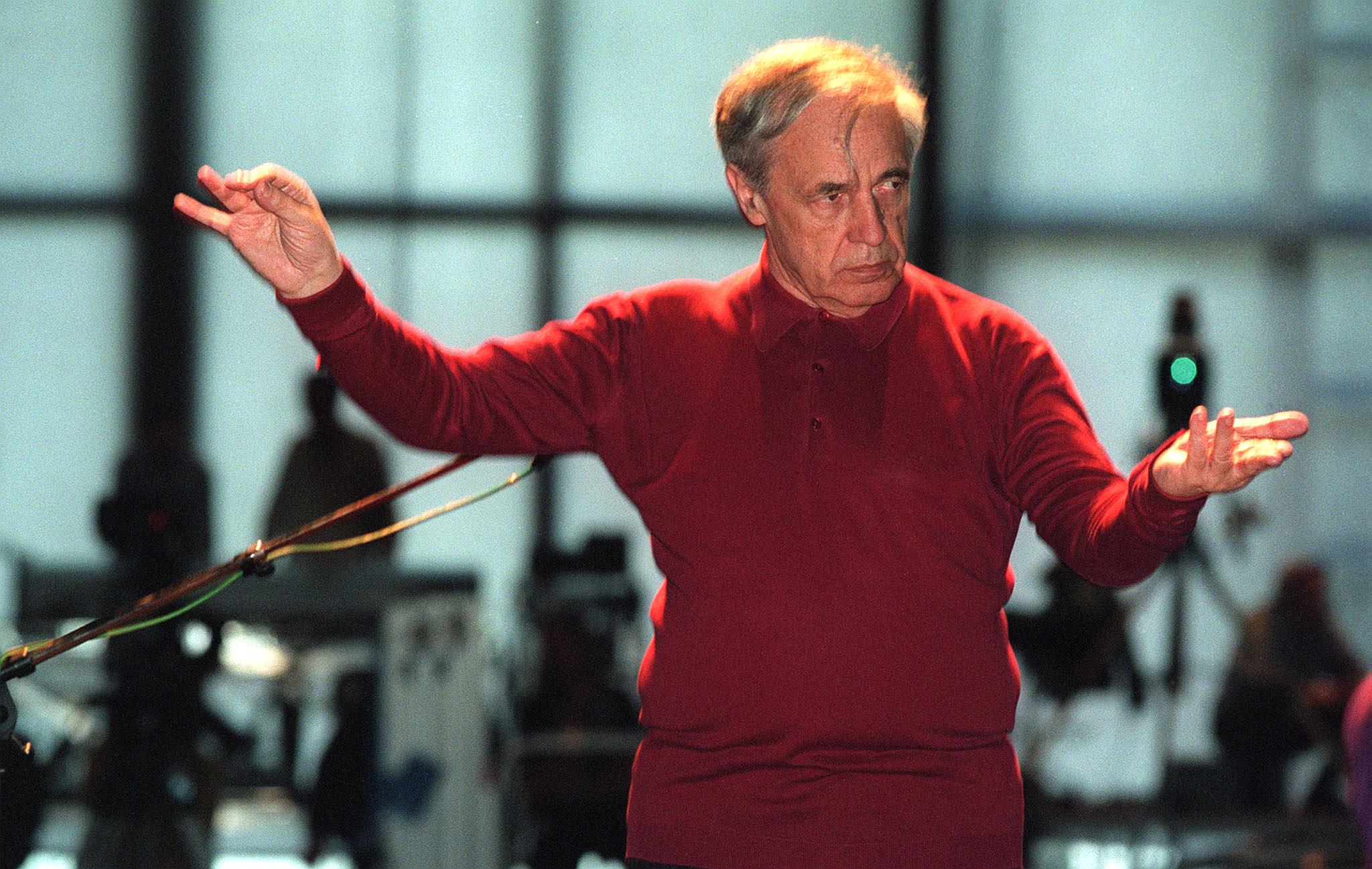 Born in 1925 in Montbrison in France's Loire region, the young Pierre began piano lessons and showed an early aptitude for both music and mathematics. He studied at the Paris Conservatoire under Messiaen from whom he discovered twelve-tone technique and went on to write atonal music. Early in his career, he also performed as a specialist on the early electronic instrument, the Ondes Martenot.
During the Second World War and for a number of years afterwards, Boulez worked as a pianist, playing with orchestras, choirs and soloists. It was as a pianist that he first introduced himself to UK audiences, in a partial premiere of book 2 of his own Structures for two pianos, which he performed at the Wigmore Hall in March 1957.
Boulez was one of the most influential philosophical leaders in the arts towards greater abstraction and experimentation, in contact with many ground-breaking composers including Berio, Cage, and Stockhausen. From the 1950s, beginning with his Third Piano Sonata, Boulez experimented with what he called 'controlled chance' in his music, offering the performers options about what they played.
"To me," Boulez said, "each of my compositions is like a labyrinth, and a labyrinth can go on forever."
Boulez's own masterpiece Le marteau sans maître ('The Hammer without a Master) for ensemble and voice, from 1953 to 1957, has been described as a 'keystone of 20th-century music' and one of the few works of music from the 1950s to remain in the repertoire. The work was a revolutionary synthesis of many different aspects of modern music, which also encompassed the sound worlds of jazz, the Balinese gamelan, and traditional African and Japanese music.
"I don't like to write something that could have been written by somebody else," the composer insisted.
Boulez the conductor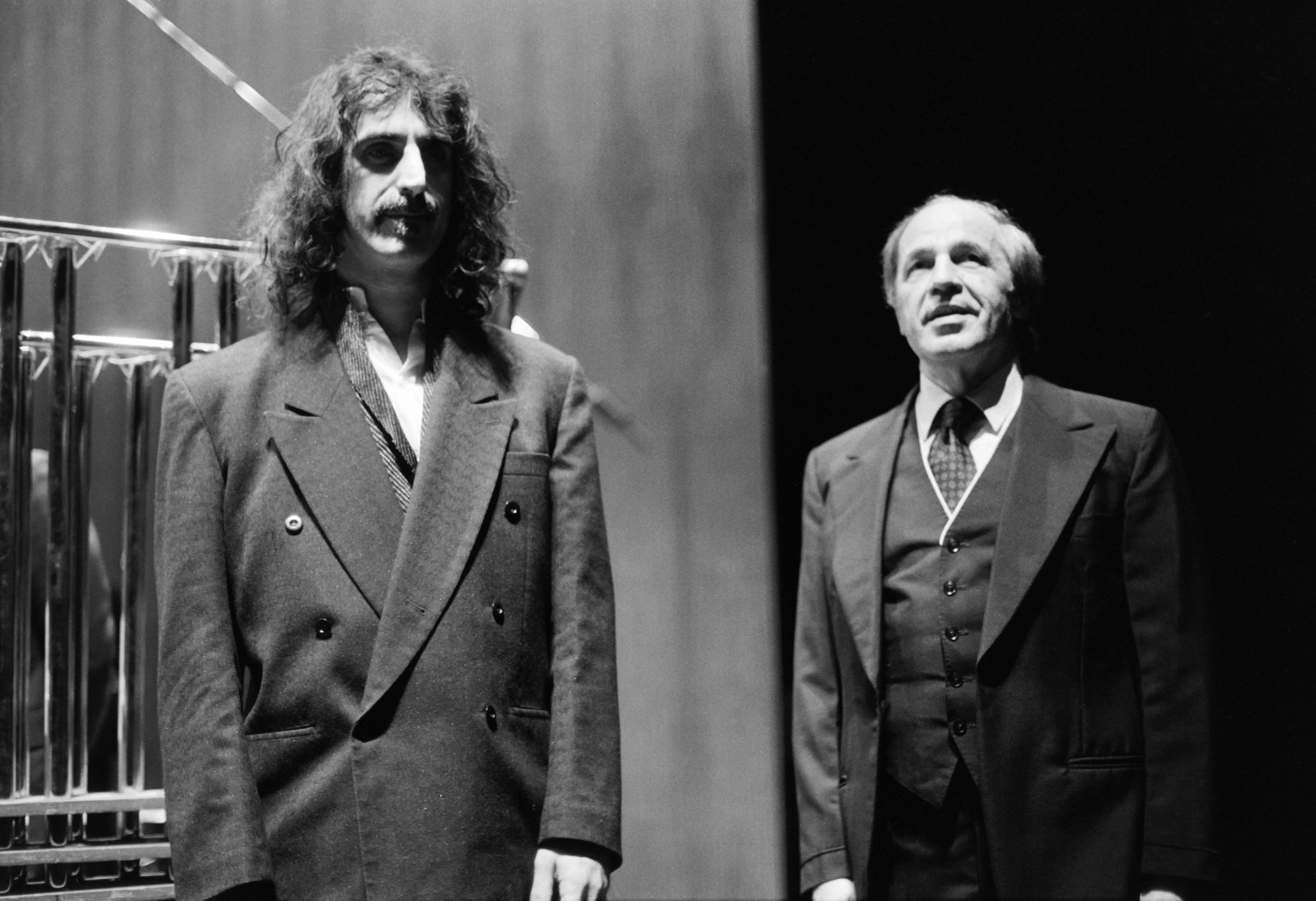 As a conductor, he was particularly famed for his interpretations of 20th-century classics and contemporary music. When he served as music director of the New York Philharmonic from 1971 to 1977, Boulez was criticised - even by members of the orchestra - for his concentration on modern repertoire.

He was also an acclaimed interpreter of the music of Beethoven, Berlioz, Schumann and Wagner, and conducted opera productions and made several recordings of opera, and notably the 1976 centenary production at Bayreuth of Wagner's Ring cycle In 1984, he collaborated with Frank Zappa (pictured) and conducted the Ensemble Intercontemporain, who performed three of Zappa's pieces. He never used a baton, conducting with his hands alone.
Boulez appeared often with the Berlin and Vienna Philharmonics, the London Symphony Orchestra, the Orchestre de Paris, and the Staatskapelle Berlin, and was Conductor Emeritus of the Chicago Symphony Orchestra.
In 2010, he finished recording a 15-year, multi-orchestra Mahler cycle for Deutsche Grammophon with the Adagio from Mahler's uncompleted Tenth Symphony with the Cleveland Orchestra.