Vladimir Ashkenazy, Russian pianist and conductor, retires with immediate effect
20 January 2020, 11:08 | Updated: 20 January 2020, 12:33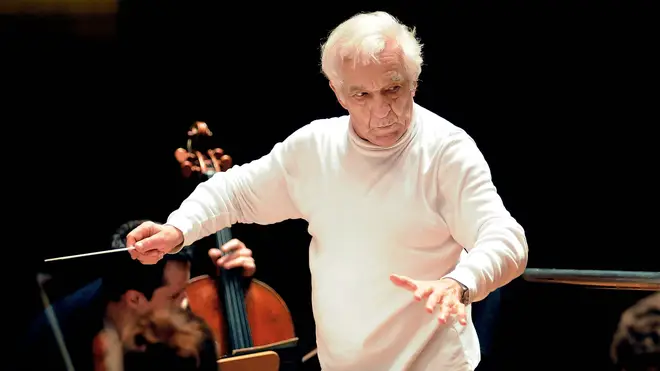 The announcement marks the end of a glittering career for the conductor-pianist that has spanned 70 years.
Russian pianist and conductor Vladimir Ashkenazy, 82, has retired from all public performances. The announcement was made on Friday in a post by his long-time artist manager, Jasper Parrott.
Parrott called it a "sombre day", citing Ashkenazy's "dedication to the great human gift of music" over the decades.
Ashkenazy first came to prominence on the world stage in 1955, winning second prize in the International Chopin Piano Competition in Warsaw. A year later, he was awarded first prize in the Queen Elisabeth Music Competition in Brussels and the Tchaikovsky Competition in 1962.
Since his first break-out, he built an extraordinary career as one of the outstanding – and most-loved – pianists of the 20th century.
Read more: These are the 25 best piano players of all time >
He has recorded for the Decca record label since 1963, and is most renowned for his releases of piano works by Rachmaninov, Shostakovich and Chopin.
His recording of Beethoven's Piano Trios with violinist Itzhak Perlman and cellist Lynn Harrell won 1988 Grammy Award Best Chamber Music Performance.
Since the mid-1980s, Ashkenazy worked primarily as a conductor. He was principal conductor of the Royal Philharmonic Orchestra from 1987 to 1994, and Classic FM's Orchestra on Tour, the Philharmonia, appointed him Conductor Laureate in 2000. From 2009 to 2013, he was chief conductor of the Sydney Symphony Orchestra.
Vladimir Ashkenazy, our Conductor Laureate and long-standing collaborator, has shared with us the news that he has chosen to step down from conducting.

Vova has been part of the Philharmonia family for 50 years, so today we want to pay tribute to one of our closest friends pic.twitter.com/IT7j76giRy

— Philharmonia Orchestra (@philharmonia) January 17, 2020
In 2017, we spoke to Ashkenazy about what it takes to be a pianist. In the video below, the great virtuoso gives his tips for young players at the beginning of their careers.
Read more: Ashkenazy says 'I don't think we can make political points with music' >
Ashkenazy had concerts scheduled with the Sydney and Melbourne Symphony Orchestras in May and June 2020, as well as performances of Tchaikovsky and Shostakovich with the Philharmonia Orchestra at the Riga Jurmala Music Festival in August.
Parrott said that, while the news was sad for his fans, "we can all take comfort in the sure knowledge that music, even if not in public performance, will continue to inhabit every hour of his life and will be shared with joy and satisfaction within his devoted family and among his friends".