Composer Steve Reich on phones in concerts: 'If you're not riveted to the music, we've failed you'
6 November 2019, 16:25 | Updated: 6 November 2019, 16:52
The great American composer made the comments at Trinity Laban Conservatoire of Music and Dance, where he has been presented with an Honorary Fellowship.
One of the great composers of the 20th and 21st centuries has been awarded an Honorary Fellowship from Trinity Laban Conservatoire of Music and Dance. The American maestro Steve Reich accepted the fellowship in a music-filled ceremony in London.
The event featured a new arrangement of one of his most popular pieces, Electric Counterpoint, in a new arrangement for electric viola performed by Trinity Laban's Head of Stings, Professor Nic Pendlebury.
Reich also took questions from the students and young musicians at Trinity Laban.
One student asked the composer about modern-day concert etiquette, saying that audiences of today want to hear music in a more relaxed setting with opportunities to use their phones, chat and move about the room – as opposed to silent, fixed seat concerts.
Was the great minimalist composer supportive of a more informal style of performance?
"I totally disagree," he said. "I think music should actually rivet you. You should barely move because you're so taken with it and you don't give a damn about what's going on in the room. You're just in it – and if you're not, then the composer or musicians have failed you."
Reich continued that the informal style of performance works in places where people aren't really listening, where music is on as background music. "That's fine," he says, "that's part of life. But I think you want to write something that's so moving to people and magnetic that they just want to hear it."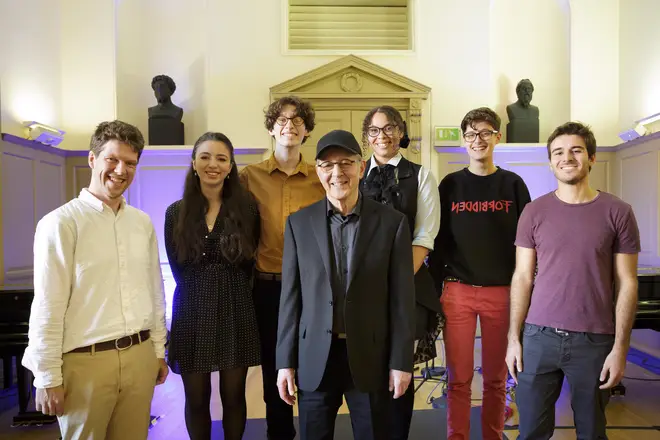 The composer also shared his tips for young composers at the beginning of their careers. "Do it yourself. Write pieces for people you know and you can rehearse with, and things will grow from that point.
"Work with that which you already know, in the musical community you find yourself."
At the event, the Principal of Trinity Laban Conservatoire of Music and Dance, Professor Anthony Bowne, presented Reich with the Honorary Fellowship, calling him "America's greatest living composer".