Rolando Villazón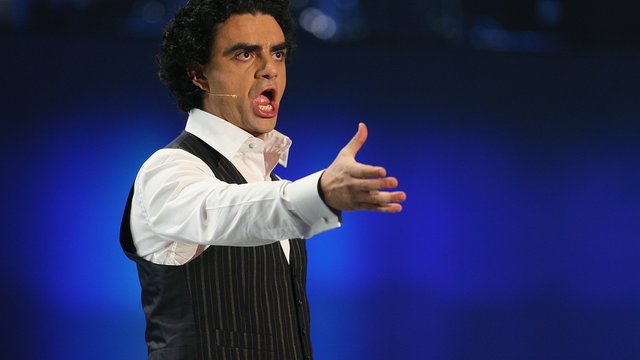 Villazón's musical life almost never happened. Before attending the conservatoire in Mexico City, he flirted with the priesthood. Thankfully, music had a bigger pull and experience of singing 'Una furtiva lagrima' in front of 1500 people at a school concert made sure he followed his true vocation.

Born in Naucalpan, Mexico, on February 22nd in 1972, he joined the Espacios Academy for the Performing Arts at the age of 11, where he studied music, acting, contemporary dance and ballet.

In 1990, Villazón met baritone Arturo Nieto who introduced him to the world of opera and there was no looking back.

In 1998, he won a place at Pittsburgh Opera's Young Artists Program where he appeared in productions of I Capuleti ed I Montecchi, Lucia di Lammermoor and Samuel Barber's, Vanessa, but it was his brilliant European debut in Manon in Genoa in 1999 which brought him to the world's attention.

Rolando has won numerous major awards including the French honour Les Victoires de la Musique for 'Foreign Discovery of the Year', the ECHO Classics 2004 prize for his first solo recording of Italian arias and a Gramophone 2005 Recital Award for his second album, Gounod & Massenet Arias.

In 2010 Rolando Villazón released Tenor, an exclusive album to the UK. On Tenor, Villazón showcased some of the leading arias as popularised by operatic legends including The Three Tenors - Pavarotti, Domingo and Carreras. The greatest tenor arias on this disc vary from sophisticated Handel, emotional operatic greats by Verdi and Puccini, through to 20th Century classics from Bernstein's West Side Story and Lloyd Webber's Phantom of the Opera.

In January 2010, Villazón was both a mentor and a panellist on ITV1's prime-time show, Popstar to Opera Star.
View more
Discover Rolando Villazón