These are indisputably the greatest tenor voices in history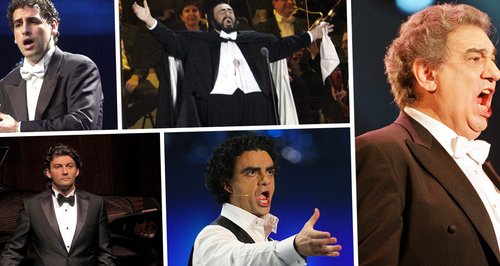 Tenors make some of the sweetest sounds in opera, but just how many of these singers are truly great? We reveal the best...
Plácido Domingo

There have been some truly legendary tenors over the ages but there's one singing today who is so far ahead of his rivals that you can scarcely squeeze him into the same mental space: Plácido Domingo. Not only does he have the visceral, powerful, awe-inspiring high notes that are the calling card of any world-class tenor, but he's also a great actor with a magnetic stage presence.
Jonas Kaufmann
The German tenor has quickly established himself among the greats, thanks to his unique ability to unite disparate groups - purists, and casual opera fans. He's also systematically working his way through all the heavyweight operatic repertoire, which means that soon there will be an enviable catalogue of Kaufmann recordings that should ensure his legend status for years to come.
Luciano Pavarotti
The Modena-born son of a baker and amateur tenor, Pavarotti sang alongside his father in the local town choir while studying to become a schoolteacher. Opting instead for a career in singing, he rose steadily to prominence, making sensational debuts in 1963 as Rodolfo in La Bohème at Covent Garden and the following year as Idamante in Mozart's Idomeneo at Glyndebourne. His La Scala debut, again as Rodolfo, was in 1965, with Mimì sung by his fellow-Modenese, Mirella Freni (she likes to refer to him as "my little brother").
Enrico Caruso
The son of a factory mechanic (and bass singer) in Naples, Caruso was a teenage singing star there. By 1897 when he auditioned for Puccini, the composer asked him: "Who sent you to me? God himself?" Caruso sang Dick Johnson in the 1910 premiere of Puccini's La Fanciulla del West – one of his many appearances at the Metropolitan Opera in New York, where he became virtually resident. He survived the 1906 San Francisco earthquake but died, far too young, of pneumonia and pleurisy.
Benjamino Gigli
Born in Ancona into a poor family, as a boy Gigli sang in the local cathedral choir. Then he went to study in Rome, supporting himself by working in a pharmacy and as a domestic servant. His big break came when he won a singing competition in Parma in 1914. Steady upward progress followed, and by 1918 he was singing under Toscanini at La Scala in Boito's Mefistofele. International fame followed after the end of the First World War, and by 1920 Gigli was singing to great acclaim at the Metropolitan in New York – just before Caruso's death.
Rolando Villazón
The Mexican tenor has a certain natural flamboyance which lends him to the operatic stage perfectly - he's as much an actor as he is a singer and, despite some medical issues with his vocal cords in recent years, has become one of the most distinctive voices and presences among all tenors.


Jussi Bjorling
Björling came from a singing family: as a child he travelled around Sweden with the Björling Male Quartet, whose other members were his father and brothers. Success in Mozart and Rossini roles at the Royal Opera of Stockholm (where he made his debut aged just 19) soon led to appearances across Europe. He made his Metropolitan debut, as Rodolfo in La Bohème, when he was only 26.
Alfredo Kraus
Probably the finest tenore di grazia (light lyric tenor) of his generation, Kraus was born in Gran Canaria, where he studied engineering and sang in choirs. He was the first to respect the limitations of his beautiful and keenly focused, but far from large voice: "Never take a step longer than your leg," he liked to say. His fame rested on the relatively small repertory that he felt worked for him.
Tito Schipa
Schipa came from a poor background in Lecce in the Italian south, where the beauty of his lyrical voice was soon noticed in church and school choirs. After study in Milan he made a triumphant appearance at La Scala in 1915. Puccini created the role of Ruggero in La Rondine for Schipa in 1917; and during the next two decades he was a celebrity at the Chicago and Metropolitan Operas before returning to Italy.
Juan Diego Flórez
The great JDF has been a regular fixture on the opera stage for many years now, but it's easy to forget just what an effortless talent he is. Just look at his insane '9 high cs' in La Fille du Regiment':
Lauritz Melchior
Probably the greatest Wagnerian Heldentenor ever was born in Copenhagen on the same date as Gigli and started out as a baritone. Then a colleague at the Royal Danish Opera sensed that Melchior was "a tenor with the lid on", and encouraged him to re-train. Melchior's first Tannhäuser in 1918 marked the start of a spectacular career.
Carlo Bergonzi

Bergonzi was initially held up in his progress towards becoming the stellar Italian tenor of his generation – first by training as a baritone, then by imprisonment by the occupying Germans for anti-Nazi activities. In his mid-20s he re-trained as a tenor; by 1953 he had caused a stir at La Scala and world fame followed.
Peter Pears
Pears's unique and unmistakable tenor was quite different from the Italian, German or Nordic kind: not huge in size, it was nonetheless beautifully produced, sustained by great stamina, and harnessed to superb musical and acting skills. He was the lifelong partner of Benjamin Britten; nearly all of the composer's operas contain a major role devised for, and premiered by Pears – most famously the lead in Peter Grimes, whose first performance in 1945 propelled both artists to international fame. Pears excelled also as a Lieder and oratorio singer, especially in Bach's Passions.