Renée Fleming is the queen of everything and here's exactly why
14 February 2019, 14:23 | Updated: 14 February 2019, 18:03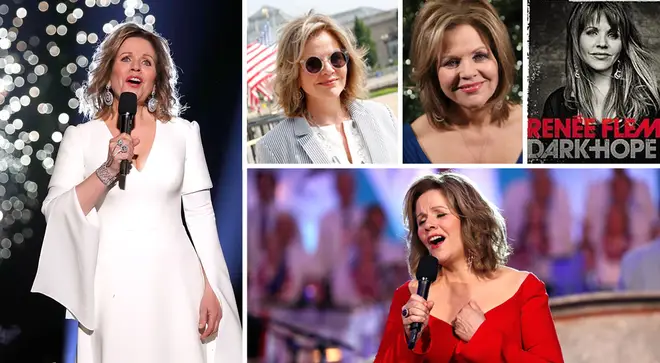 Today, international opera star, beloved soprano and all-round lovely person Renée Fleming celebrates her 60th birthday. Here are all the reasons why we think she's great.
She's a vocal chameleon

Before studying opera at New York's Juilliard, Renée flirted with the idea of becoming a jazz singer. She can also do musical theatre and indie rock, as demonstrated in her 2010 album Dark Hope – a dark, growly record which contains a surprisingly bass-heavy cover of Leonard Cohen's 'Hallelujah'.

Dark Hope – Renée Fleming.

Picture: Amazon

She became the first opera star to sing at the Super Bowl

Her rendition was simple, powerful and full of gorgeous vibrato.

She's a huge advocate for the arts

As well as performing in opera houses and concert halls the world over, she holds the title of Creative Consultant at the Lyric Opera of Chicago, and is Artistic Advisor at Large at the Kennedy Centre in Washington.

Barack Obama presents Renée Fleming with the National Medal of Arts.

Picture: Getty

She sings with grace and humility

Just listen to that final, gorgeous high B flat... *shivers*

Renée Fleming Performs "You'll Never Walk Alone" at the 2018 A Capitol Fourth

She's a brilliant actress

La traviata - 'Sempre libera' (Verdi; Renée Fleming, The Royal Opera)

She is incredibly elegant

See below: Renée singing performing at A Capitol Fourth just last year looking all kinds of stylish.

2018 A Capitol Fourth. Picture: Getty

She appeared on The Lord of the Rings soundtrack

Renée lent her vocals to Howard Shore's beautifully ethereal 'Twilight and Shadow' from The Return of the King – and she learned every word in Elvish.

Renée Fleming - Twilight and Shadow

Her voice is silky smooth

Renée Fleming: Casta Diva (Bellini)

And her version of 'Danny Boy'

This is one of the most heart-breakingly beautiful things to ever happen.

John McCain funeral: Renee Fleming performs 'Danny Boy'

Renée, keep being awesome.