First look at Katherine Jenkins' movie acting debut with Johnny Depp and Bill Nighy
24 February 2020, 13:28 | Updated: 24 February 2020, 13:31
Jenkins sings and stars in the harrowing new movie, which shows the impact of Minimata disease on a Japanese fishing town.
Welsh mezzo-soprano Katherine Jenkins is starring in her first feature film, Minamata, alongside award-winning actors Johnny Depp and Bill Nighy.
The 39-year-old singer has been cast in the role of Mille in the upcoming film, which tells the story of US photojournalist, W. Eugene Smith (played by Depp), as he travels to Japan and documents the devastating effect of mercury poisoning on Japan's coastal communities.
Based on Aileen Mioko and Eugene Smiths' 1975 novel of the same name, the heart-wrenching new drama gives us a closer insight into the real-life disaster from the mid-1950s, which caused more than 2,955 people and animals to suffer with Minamata disease caused by mercury poisoning.
It's been directed by American painter, sculptor, photographer and filmmaker, Andrew Levitas – who also happens to be Jenkins' husband.
Read more: The Pianist: what's the music, is it a true story and did Adrien Brody really play the piano? >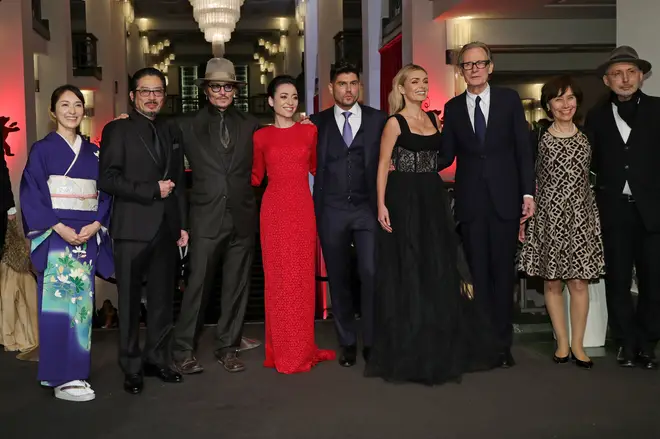 And it looks like Levitas' movie may already be set for success, having received a standing ovation at its world premiere last Friday evening (21 February) at the Berlin International Film Festival, in front of an audience of 2,000 people.
Not only will Jenkins be making her acting debut in Minamata – the classical-crossover singer has also co-written the title track with American artist, Skylar Grey, and performed on the score for the film.
Penned by Japanese composer and activist, Ryuichi Sakamoto, who previously won an Oscar for his spectacular work on The Last Emperor, we're expecting big things from the new soundtrack.
Although this is Jenkins' first starring role in a feature film, she has made plenty of TV cameo appearances throughout her career, and played Polly Garter in the 2014 TV film adaptation of Under Milk Wood. She also appeared as Abigail Pettigrew in the 2010 Dr. Who Christmas special.
Other stars joining Jenkins, Depp and Nighy in the cast include Japanese actors Hiroyuki Sanada as Mitsuo Yamazaki and Minami Hinase as Aileen, as well as 'Popular Star Award' winner, Jun Kunimura, who plays Junichi Nojima.
Minamata's US and UK release dates are still to be confirmed.