Donald Trump claimed that Jackie Evancho's album sales have 'skyrocketed' and people are begging to differ
6 January 2017, 15:29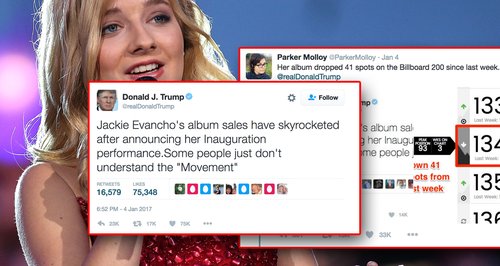 President-Elect of the United States Donald Trump has tweeted that album sales for Jackie Evancho have 'skyrocketed', something that many are now disputing.
It was announced on December 14th that soprano Evancho will sing at Trump's inauguration on January 20th. Trump tweeted earlier this week that as a result of the announcement, sales of Evancho's current album have drastically increased:
Jackie Evancho's album sales have skyrocketed after announcing her Inauguration performance.Some people just don't understand the "Movement"

— Donald J. Trump (@realDonaldTrump) January 4, 2017
Evancho's current album, a Christmas record called 'Someday at Christmas', sold just over 7,000 copies in the week ending December 15th, and then sold 13,788 copies the following week according to Nielsen Music.

In context, this is well behind the biggest selling album of the same period, A Pentatonix Christmas by Pentatonix, which sold 206,000 copies in the week ending December 22nd.

Subsequent weeks have seen a steady decline in sales for Evancho's record. Commentators have replied to Trump's tweet pointing out his hyperbolic language and other extenuating sales-boosting factors, such as the Christmas holidays and Evancho's promotional appearances on US television.
Her album dropped 41 spots on the Billboard 200 since last week. @realDonaldTrump pic.twitter.com/QU0uOlhg3F

— Parker Molloy (@ParkerMolloy) January 4, 2017