Dudamel conducting Bernstein's 'Mambo' is possibly the most deliriously infectious orchestral performance of all time
22 August 2016, 11:07 | Updated: 22 August 2016, 17:48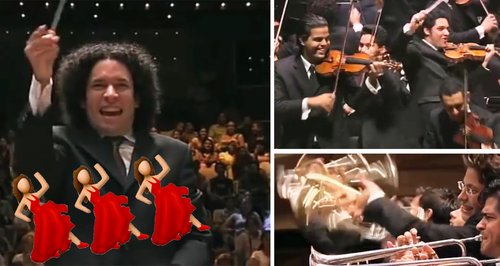 When Gustavo Dudamel's legendary Simon Bolivar Youth Orchestra of Venezuela played a New Year's Eve Concert in their native Caracas, there was only one way to finish it.
Leonard Bernstein's 'Mambo' from West Side Story has all the ingredients of a great encore piece, but when you get a firebrand conductor like Gustavo Dudamel involved, it suddenly becomes a real event.
Want some more joyous Dudamel? Listen to the Full Works Concert tonight from 8pm >

This performance from 2007 shows exactly what happens when you combine these elements (it's a massive party, obviously):
You go guys.