Anne-Sophie Mutter on André Previn's genius: 'His gift was totally outrageously impressive'
1 April 2019, 13:40
In the week leading up to what would have been conductor André Previn's 90th birthday, we spoke to violinist Anne-Sophie Mutter, who also happens to be one of his closest friends and collaborators, about his prolific music career.
Anne-Sophie Mutter knew Previn in both a personal and professional capacity – the pair were married from 2002-2006 and Previn wrote 11 pieces for her in total. They continued to work together after their marriage, and Mutter still has some music composed for her by Previn that is yet to be premiered.
André Previn, who died in February this year, was a renowned conductor but he became a household name after appearing on the Morecambe and Wise Christmas show in 1971.
In the now-famous sketch, Previn is repeatedly called 'Andrew Preview' by the comedy duo and does his best to conduct a performance of Grieg's Piano Concerto with Eric Morecambe as the haphazard stand-in soloist.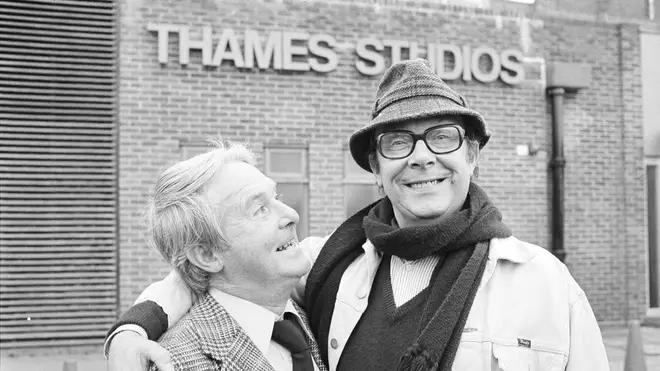 Anne-Sophie Mutter told Classic FM that one of Previn's most impressive traits was his chameleon-like ability to switch genres. She said:
"It's impossible to put André in any type of category. I guess that's why many critics had problems with this geniusly gifted musician because he was so good in so much he did.
"I have to admit that I found his ability to improvise, his deeply amazing gift to play jazz, just totally outrageously impressive."
According to Mutter, as a conductor Previn encouraged musicians to be spontaneous and experimental with their interpretations of the music.
"Being spontaneous was so much a part of his life as a jazz musician, and he brought that to the classical scores. What he brought to the classical score was the understanding of the dialogue and a freshness, a simplicity and joy which is often lacking today in a world where polished and much-repeated interpretations seem to be de la rigueur."
Watch the full interview with Anne-Sophie Mutter below:
This week on Classic FM, there's a week of special programmes called André Previn: A Life in Music, celebrating his immense talent and vast contribution to classical music. Every day, we're playing André Previn's finest recordings as a conductor, composer and pianist, along with dedicated weekend shows with David Mellor and Rob Cowan.
Find out more about André Previn: A Life in Music >