Bid on one-of-a-kind prizes through the Global's Make Some Noise auction
18 June 2020, 14:56 | Updated: 24 June 2020, 08:08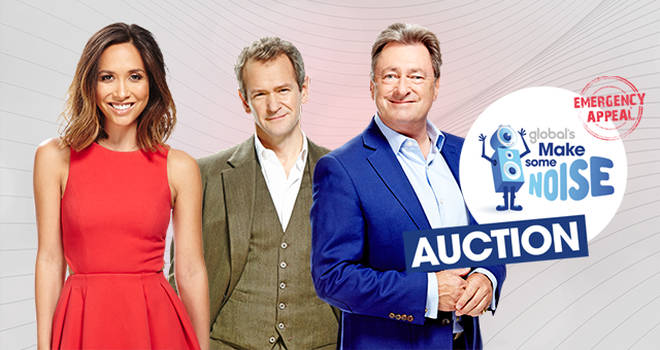 A personalised limerick from Alexander Armstrong? Yes please! Alan Titchmarsh on Zoom for a gardening consultation? Is this heaven? Tim Lihoreau conducting MY next virtual choir rehearsal? Oh stop.
Classic FM's charity, Global's Make Some Noise, has launched an auction full of exclusive money-can't-buy experiences to raise money for those hit hardest by coronavirus in our communities.
You could win a personalised limerick from our weekday mornings presenter Alexander Armstrong, a Zoom call packed with all the gardening tips you need from our Saturday morning presenter Alan Titchmarsh, or an exclusive check-in from More Music Breakfast's Tim Lihoreau who will conduct your next virtual choir rehearsal. And Aled Jones is offering one lucky bidder the chance to sing on his new album, Blessings.
These are all one-of-a-kind prizes that will allow you to get up close (virtually) with Classic FM's presenters like never before.
To be in with a chance of winning a dream prize, click here.
New prizes are being added all the time, so do keep checking in for the latest.
By becoming a winning bidder, you'll be supporting our Emergency Appeal from Global's Make Some Noise. The auction is raising money for small charities helping those experiencing grief, poverty, domestic abuse, loneliness, illness and mental health problems, as well as carers and care workers.
Full list of Classic FM Prizes
30-minute virtual piano masterclass with Lang Lang
If you're a student of 88 keys, it doesn't get much better than this: a 30-minute masterclass with star pianist Lang Lang. He has collaborated with some of the biggest artists in the world, has been known to work on musical projects ranging from philharmonic orchestras to video game soundtracks, and now he wants to help you.
Allow Lang Lang to share his gift of music with you, showing you why he has been noted as having total mastery of the piano, and is a leading figure in classical music in the 21st century.
Important information:
• This auction item is for a 30-minute virtual masterclass with Lang Lang.
• Winner must be an advance level.
• Expiry date, 31st August 2021.
• The fulfilment of all auction lots are subject to the latest  UK  government  health and safety  guidance on coronavirus.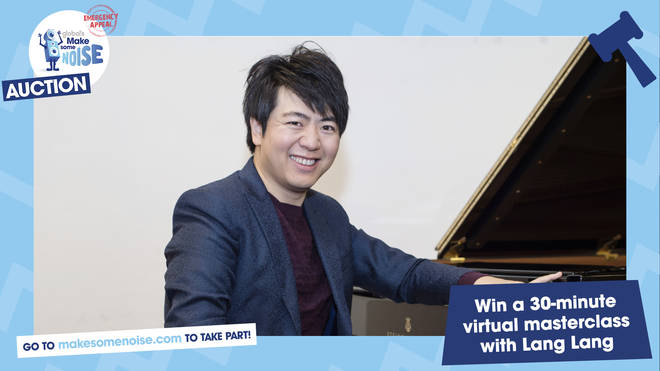 Sing on Aled Jones' new album Blessings
Join Classic FM presenter and baritone Aled Jones at a recording for his upcoming album Blessings, and sing along with his choir to be part of a song that will be released on the album.
Blessings has been conceived as being a record 'for all faiths and none' and features some very special guests. The recording will take place in London on either 25 or 26 June, and you don't need any prior singing experience to take part.
You'll be sent your music to learn in advance, and whether you're a soprano or a baritone, or anything in between, Aled looks forward to welcoming you on the day to be part of this very special recording.
You'll also be sent a signed copy of the album upon its release, so you can listen and reflect back to your wonderful experience.
Important information:
• This is for one person to participate in a recording of a track on the upcoming Aled Jones album Blessings. Also included is a signed copy of the album, the release date of which is TBC, which will be posted to your chosen address.
• The recording will take place in London on 25 or 26 June 2020 and the winner must be able to make their own way to and from the venue.
• Payment must have been made and received prior to the release of any further information about the location, date or time of the recording.
• The recording session will be socially distanced and measures will be taken to keep participants safe.
• The fulfilment of all auction lots are subject to the latest UK government health and safety guidance on coronavirus.
Personalised, handwritten limerick by Alexander Armstrong
"There once was a man from Pointless..."
Be captivated by the creativity of Classic FM's Alexander Armstrong, who would like to gift you with a bespoke and beautiful handwritten limerick.
Not only will he handwrite you an original limerick, but he will also sign it, creating some wonderful memorabilia for you to treasure in years to come.
Virtual gardening consultation with Classic FM's Alan Titchmarsh
Do you have stubborn shrubs, wicked weeds, or a plain old patio? What better way to create the garden of your dreams than to have an online horticultural consultation with British gardening icon, Alan Titchmarsh.
Alan will answer all your questions, give advice and help you troubleshoot any peculiar problems you're experiencing with a particular area. Get your green fingers at the ready and explore the world of gardening, gaining handy tips and tricks to help make the most of your outdoor space.
Now, I believe it's time to get down to some serious weeding and seeding.
Tim Lihoreau to virtually conduct your choir rehearsal
Are you trying to get pitch perfect? Is your choir in need of a well-trained ear to give advice? Well this is what you've been waiting for.
Classic FM's Tim Lihoreau is here to help you harmonise through virtually conducting your choir rehearsal. This fantastic opportunity will be for up to 30 of your friends to join together (virtually) and sing their hearts out, with advice and guidance from Tim.
Not only does Tim present Classic FM's More Music Breakfast, but he has won multiple awards in radio production, and was also a professional pianist before moving into radio. With ample experience of leading choirs in his local area, Tim will have you singing from the rooftops in no time.
Now all together, Do-Re-Mi…
Original music illustration by Rosie Brooks, as seen on the limited edition Classic FM puzzle
Treat yourself to something beautifully bespoke this summer, thanks to one of the UK's leading illustrators, award-winning Rosie Brooks.
Rosie is giving you the chance to own a selection of five original illustrations in pen, ink and watercolour, as featured on the Classic FM Hall of Fame Jigsaw Puzzle.
Rosie will also create one bespoke, personalised illustration, commissioned directly by you! This is the perfect gift for Father's Day, a Classical music lover, or wonderful treat for you to treasure in your own home.
Signed classical collection from pianist Stephen Hough
This is your chance to own a lovely collection of recordings from one of the world's leading pianists, Stephen Hough.
Up for grabs is a signed copy of his Beethoven: The Piano Concertos collection – recorded during a cycle of live performances in Helsinki – on CD. He will also provide a signed score of one of the concertos for you to add to your collection, or even play yourself.
The prize also includes a signed copy of Hough's book Rough Ideas, a collection of reflections on music that has been called "an illuminating and absorbing introduction to the life and mind of one of our great cultural figures".
Anne-Marie Minhall will bake you a Christmas cake
Whilst it might not be on your mind right now, Christmas is inevitably on its way, and what better way to celebrate than with your own Christmas cake, made by our very own Anne-Marie Minhall?
Allow Anne-Marie to treat you this autumn by getting your Christmas traditions started with plenty of time to spare. Anne-Marie will have your cake baked and ready by end of October, to allow it time to mature, and improve its flavour and appearance.
You'll find that, this Christmas, you really can have your cake and eat it (come on, we had to). Kindly donated by Anne-Marie Minhall.
• This auction item is for one Christmas Cake to be made by Anne-Marie Minhall.
• The cake will be posted in a Tupperware container and delivered to a UK address.
• The cake must be made and dispatched by 31st October latest.
• Allergy alert: the cake will contain flour, eggs, nuts, fruit & alcohol.
Other prizes you may like...
Personal video message from Myleene Klass
Smooth Classics presenter, Myleene Klass, is ready and waiting to record the perfect personalised message for you and a loved one. And, even better, she would like to share her gift from the piano – so whether its Happy Birthday for a loved one, or a favourite pop song for your greatest friend, just describe the occasion – and Myleene will musically take care of the rest!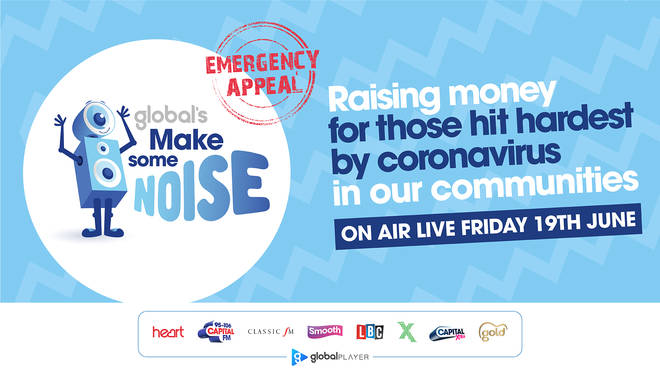 Important Information:
• The auction closes at 22:00 on Sunday 21 June 2020.
• You must be 18 or over to place a bid.
• In order to bid, you'll need to register on the auction site (hosted by Bid_In) using your full name, email address, mobile number and a four-digit pass code. This is to enable us to notify you if you get outbid or if you are the winning bidder.
• Please check the important information and T&Cs listed under each auction item before placing a bid to ensure you fully understand the terms and that you are eligible to bid.
• In the event of non-payment within 7 days of the auction closing time, the highest bidder will lose the bid and we will approach the second highest bidder.
• If you have any questions about the auction, please email prizes@makesomenoise.com.