Crying baby is hypnotised by the sound of pianist dad playing Liszt's 'La Campanella'
20 October 2021, 10:49 | Updated: 20 October 2021, 14:57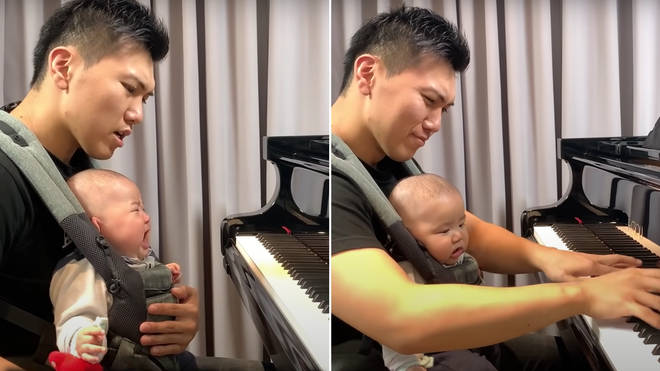 This musician swapped lullabies for Liszt's most demanding piano work, to comfort his tiny tot.
One parent has solved the problem of how to calm an upset child: play them classical music.
With his crying baby strapped to his chest, the piano-playing dad sits before the keys and serenades his distressed young boy with some Franz Liszt.
His piece of choice? Not the lovely Cradle Song, 'Wiegenlied', as one might expect – but the Romantic composer's devilishly tricky 'La Campanella'.
Watch as the father tickles the ivories for just a moment, and his child's cries cease almost instantaneously...
Read more: Age-defying mystery pianist stuns crowd with virtuosic Liszt on street piano
A few occasional wails do punctuate the impressive piano playing, especially when the music pauses for a moment or two.
But the baby is clearly enraptured by his father's rendition of the étude.
And at the end of the minute-and-a-half performance, the tot's tears have stopped entirely.
He even shares a big grin with the camera, too. N'aw.