Jean-Philippe Rameau: A Life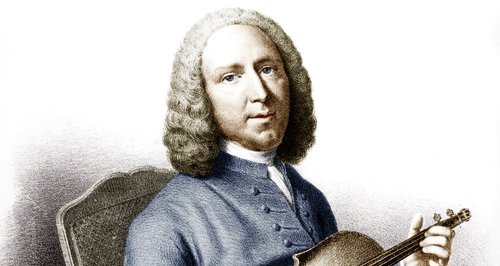 A legendary composer who transformed the face of French opera, Jean-Philippe Rameau was ahead of his time, his theories and works inspiring such succeeding operatic innovators as Gluck and Wagner.
Who was he? The most distinguished French composer of the late Baroque
Why is he important? He revolutionised French opera and was a leading theorist
What are his most famous works? Hippolyte Et Aricie; Castor Et Pollux; Les Indes Galantes; La Poule; Les Cyclopes; La Triumphante; Gavotte Variée

Rameau was one of the most profoundly gifted of all French composers. At a time when the finest musician in Spain was an Italian (Domenico Scarlatti) and England's most celebrated composer was German (Handel), Rameau stemmed the tide of popular Italian operatic imports with a series of bracing theatrical masterpieces.
He shunned trends towards showpiece arias sung by the latest stars charging exorbitant fees and put the focus firmly back on dramatic tension and pacing.
"I conceal art with art," was his maxim, and his desire to unite all the arts in one magnum musical opus led to the operatic reforms of Gluck and, most notably, Wagner.
Considering Rameau's importance, it is surprising how little we know with any certainty about his personal life. He was extremely tall and thin: "more like a ghost than a man" attested one contemporary, another that "he had a sharp chin, no stomach and flutes for legs" and that he "resembled a long organ pipe with the blower away".
Those who knew him in childhood remembered a lively, outgoing personality. Yet as time went by, while his music retained a boyish sparkle and vigour, he personally became more withdrawn and introspective as he dedicated his energies exclusively to composing and writing learned treatises.
As one close friend put it: "His heart and soul were in the harpsichord; once he had shut its lid, there was no one home."
Rameau was notoriously careful with money. Having amassed a small fortune, by the time of his death he owned just a few clothes, a single pair of worn-out shoes and a harpsichord that was seriously in need of repair. Yet he supported his family generously – he set up a large dowry for his daughter when she took holy orders – and helped a number of promising musicians, most notably Claude-Bénigne Balbastre.
Above all his belief in the power of music – what he described as "the language of the heart" – remained absolute, and woe betide anyone who disagreed with him. He made personal enemies of a number of influential people whose views he opposed and avoided intimacy at all costs – yet he seemed quite content in his own skin.
"The emptiness he found in society made him avoid it," observed the artist Jacques-Fabien Dagoty.
Rameau belongs to that select group of composers – alongside Bruckner and Franck – who produced little of any real significance before they were 40 years of age. Although he could play the harpsichord before he could read or write and was actively encouraged by his father (along with 10 other siblings!), Jean-Philippe was enrolled in a Jesuit school with the ultimate aim of his becoming a lawyer.
However, his heart was never really in it and eventually he was asked to leave. Having finally received his parents' blessing to make music his career, he made his way to Milan with a view to making up for lost time.
Rameau stayed in Italy just a few months before returning to France and joining a troupe of wandering players as a violinist. His wanderlust continued as he accepted a series of organist posts in fairly quick succession around Paris and the provinces, including five months in Avignon, four years apiece in Clermont and Dijon, and two years in Lyons.
All the while he was refining his composing technique and in 1706 he produced his Premier livre de pièces de clavecin, the first of his works to roll off the printing presses.
However, it was only after Rameau finally settled in Paris in 1722 that his career took off in earnest. That same year he published his Traité De L'harmonie, which immediately won him the respect and admiration of his peers.
Meanwhile, his books of harpsichord pieces, with such characterful titles as La Villageoise, La Joyeuse, Les Cyclopes and La Triumphante, had become all the rage. His newfound happiness was compounded when in 1726 he married a gifted pupil of his, Marie-Louise Mangot, who bore him four children.
Not all was plain sailing. Rameau tried repeatedly to gain an organist's post in the French capital, but finally threw in the towel in 1727 when he lost out to Louis-Claude Daquin – composer of that delightful keyboard charmer Le Coucou – for a job at St Paul.
As if to rub salt in the wound, his trailblazing second treatise Nouveau Système De Musique Théorique (1726) was witheringly dismissed by traditionalists, the first of a series of musical controversies that would haunt the remainder of Rameau's career.
Rameau was already 50 when he produced his first opera, Hippolyte Et Aricie, in 1733. Its searing dramatic urgency and unprecedented attention to orchestral detail and colouristic effects caused a sensation.
Immediately lines were drawn between the staunch supporters of the well-established Lully tradition, with its unmistakably French poise and reserve, and those who preferred the red-blooded passion and intensity of Rameau – or as the Lullyists put it, his "grotesque, discordant music" replete with "noisy instrumentation".
Nowadays it is difficult to hear quite what all the fuss was about, but at the time it was akin to the storms of protest that greeted another infamous Paris premiere – that of Stravinsky's The Rite Of Spring. As time went by, so the initial furore gradually died down.
Between 1735 and 1753 Rameau served as the Maître de musique to the wealthy financier La Pouplinière. This was something of a dream appointment, for it not only gave him the opportunity to mix with the cream of Paris's writers, artists, musicians and even the infamous libertine Giovanni Casanova (!) at La Pouplinière's various residences, but it also brought him into direct contact with the French court.
He became Compositeur de la musique de la chambre du roy in 1745, the same year he was invited to compose a comédie-ballet in collaboration with the great writer-philosopher Voltaire – La Princesse De Navarre.
The same team went on to produce Les Surprises De L'amour for the Théâtre des Petits-Cabinets of Mme de Pompadour in 1748. Also that year, working alongside his favourite librettist Louis de Cahusac, he scored a hit with Zaïs, whose overture features a heart-stopping depiction of the world's creation, complete with atmospheric rustlings, swirling explosions and an ominous tolling drum.
With his position at court now unassailable and his reputation soaring, Rameau was at the very height of his career when on April 22, 1749 he premiered his three-act pastorale-heroïque Naïs.
Another Cahusac collaboration, it was composed in celebration of the Treaty of Aix-la-Chapelle signed the previous year. This highly evocative story of a nymph's love for a stranger (Neptune in disguise), luxuriates in the simple pleasures of life and features an enormous cast of giants, gods, goddesses, zephyrs, sea-divinities, nymphs and shepherds.
This groundbreaking work inspired a wave of nostalgia for the Arcadian ideal amongst the Parisian elite, which rapidly spread to all the arts.
Just as it seemed as though nothing could go wrong, Rameau unwittingly found himself embroiled in fresh controversy. In 1752, a visiting opera troupe staged a performance of Pergolesi's La Serva Padrona in Paris that hit the musical scene like a thunderbolt.
Now it was Rameau's turn to be declared old-fashioned by the likes of Rousseau and Diderot, although he retained some powerful allies including the loyal Voltaire – who passionately declared "Rameau has made of music a new art" – and the King himself.
With 12 years remaining to him and with his creative powers in decline, Rameau deeply regretted that he had not spent more time composing earlier in his career rather than dedicating himself to theoretical tracts – much to his own amazement he had composed only half-a-dozen solo keyboard pieces since 1728.
The last of his works to be performed appears to have been Les Paladins, a delightful comédie-ballet premiered in February 1760.
Despite his deteriorating health, Rameau remained active almost to the end. He secured for his eldest son, Claude-François, a highly paid sinecure as valet de chambre to the King and was ennobled just four months before his death in Paris from "a fever" on September 12, 1764.
He was buried at St Eustache, Ile de France, and although a bronze bust and red marble tombstone were erected in his memory there by the Société de la Compositeurs de Musique in 1883, the exact site of his burial remains a mystery.