This is what a colossal orchestra of 7,500 musicians playing Dvorák sounds like
15 January 2018, 14:39 | Updated: 15 January 2018, 16:03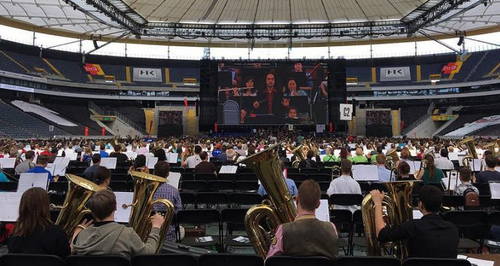 The world has its largest orchestra: here's the record-breaking symphonic cacophony from the Commerzbank Arena stadium in Frankfurt.
In July 2016, 7,548 musicians assembled in a Frankfurt sports stadium to smash the world record for the largest musical ensemble.
The mastermind of the event, trumpeter Jens Illemann, said: "we wanted to show how music can connect people, and how important it is for Germany".
The orchestra performed the ninth symphonies of Dvorák and Beethoven, as well as lighter numbers by Andrew Lloyd Webber and pop music composer John Miles.
Here's what it sounded like:
And some footage taken by one of the players:
The record-breaking ensemble was a couple of full symphony orchestras larger than the previous record-breaking ensemble, who set the record at the Queensland Music Festival in Australia back in 2013.