Conductor Simon Rattle: 'I worry desperately for my orchestra in London'
4 May 2020, 17:26 | Updated: 4 May 2020, 17:28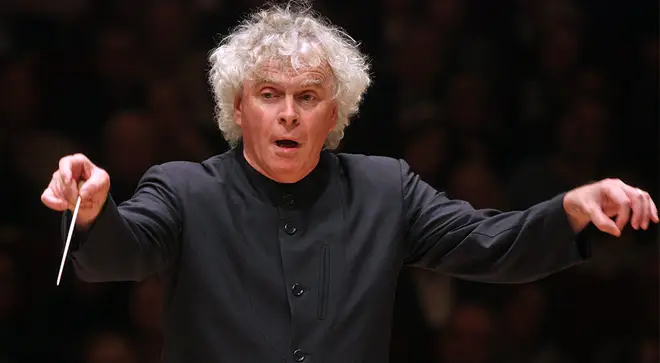 Speaking on a Zoom call with three other leading maestros, Sir Simon Rattle weighed in on the devastating impact of the coronavirus outbreak on the world's orchestras.
It's been a critical period for the world's orchestras. With concerts cancelled, tours called off and historic music venues still closed to the public amid the ongoing coronavirus pandemic, great musical institutions have found themselves in a state of increasing financial uncertainty.
US conductors Alan Gilbert and Karina Canellakis were joined on a recent Zoom call published on Facebook (watch below) by British maestros Sir Simon Rattle and Daniel Harding, to discuss the impact of these unprecedented times on the world's orchestras.
"We're surviving rather than achieving," said the London Symphony Orchestra's famed music director, Sir Simon Rattle. "I worry desperately for my orchestra in London – an orchestra that is not paid on a salary.
"And I'm so scared for the financial hardship they will be going through. Until the end of summer, this can be a possibility for most people. But then it gets very worrying. And we're doing everything we can to help, but the uncertainty is frightening and worrying."
Click here for the latest coronavirus advice from the NHS >
Alan Gilbert in Conversation with Karina Canellakis, Daniel Harding, and Sir Simon Rattle

I'm joined by Karina Canellakis, Chief Conductor of the Radio Filharmonisch Orkest Daniel Harding, Music and Artistic Director of the Berwaldhallen and Artistic Director of the Anima Mundi Sir Simon Rattle, Music Director of the London Symphony Orchestra Thanks for joining us! Alan Gilbert, Chief Conductor of the NDR Elbphilharmonie Orchester and Music Director Designate of Kungliga Operan

Posted by Alan Gilbert on Friday, 1 May 2020
Canellakis, Chief Conductor of the Netherlands Radio Philharmonic Orchestra, describes waiting for updates on social distancing measures as "a frustrating process" but says what is beautiful about the situation is we're all trying to find a way to come together again. "It's comforting that we're all here and dealing with these issues," she adds.
Discussing the possibility of performing to a live audience once again around November or December – currently considered the earliest possible month for a return to 'normality' – Rattle questions how the logistics of a classical concert will change.
"What can you do within the shape of the halls?" he asks. "How long can concerts be? How do you get people in and out of intervals to bathrooms and back again? All the things we never thought about and took for granted, and now have to be looked at very seriously.
"But the most worrying thing for me is the musicians, frankly."
Asked by Gilbert about his plans for virtual concerts with the LSO, Rattle said: "I think the minute we can do anything, we will. Whatever it is. But there has to be some way that we can financially afford it."
This weekend (Saturday 2 May) marked a significant moment in Germany, as members of the Berlin Philharmonic – Rattle's former orchestra – came together on stage to play together for the first time in weeks. Musicians were socially-distanced and there was no live audience, but the performance was streamed for free via their Digital Concert Hall.
Their last concert – also performed without an audience – had been on 12 March, with Rattle conducting. The British maestro said "the feeling of actually playing for each other" was incredibly special.
"The sense of communion between us and communication and emotional strength was really astonishing," he said. "I don't think they could've played with more intensity if there'd be 50,000 people there."
Gilbert has conducted a couple of concerts in Sweden – a country which has taken a more relaxed approach to social distancing – but with no live audiences, and with musicians at a safe distance from each other on stage. He said the virtual performances feel "surprisingly normal" until the end of the concert, when with no applause, "you're suddenly left with this empty space".
He added: "When you come out on stage, you see the entire stage filled for 45 musicians and a huge well of space between the conductor and the musicians. What was once just an emotional gulf is now an actual physical gulf between the conductor and the musicians."
Simon Rattle's conducting tips
This has been an incredibly difficult time for many, and these occasional, virtual concerts are by no means a long-term solution for the world's orchestras. But amid a global crisis, it's wonderful to see live music – however slowly – returning to our lives.
Harding, music and artistic director of the Swedish Radio Symphony Orchestra, said: "I love reading about people who say how much comfort they get from music in this time, and that gives me great hope for this thing we all love and believe in for the future."
At the end of the Zoom call, Rattle reflected on the importance of the arts in times of need, quoting actor Simon McBurney who told the maestro: "One day, people will realise we [musicians] are essential workers. We are the garbage-collectors of the soul.
"They're going to need everything the arts can give, and we should be ready to give it at a moment's notice."