Royal Ballet dancers perform a duet on London canalside for audience on opposite bank
31 July 2020, 15:48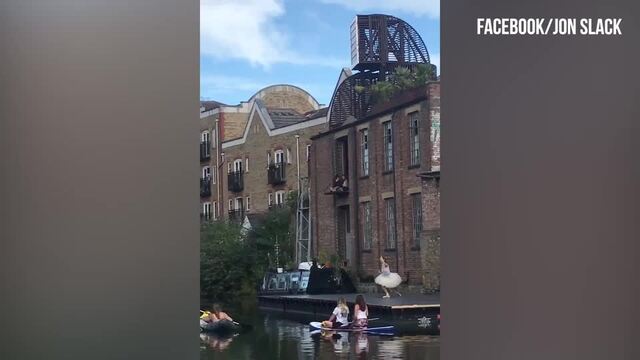 A solo ballerina performs routine to 'The Swan' on a London canalside
A wonderful reminder that art is everywhere, and we need it more than ever.
Two dancers from the Royal Ballet have been spotted pirouetting on a London canalside, for an audience of cyclists and walkers on the opposite bank.
It's a wonderful moment, where bustling East London appears to come to standstill.
The pair performed their duet outside Hoxton Docks, along Regent's Canal, making the most of the sunny afternoon to gift their art to passers-by.
Passing cyclist Katie Gatens, who captured the moment and posted it on Twitter (watch below), wrote: "Cycled home from work, came across this over the other side of the canal.
"London, you are honestly sometimes the best."
And the music at this impromptu ballet? 'Gabriel's Oboe' from Morricone's soundtrack to The Mission. Bliss.
Read more: Mystery ballerina appears on London canalside, dancing to 'The Swan' >
Annette Buvoli and Harry Churches, both dancers at the Royal Ballet, were practising for a socially distanced performance planned for the same spot, in two weeks' time.
They're both involved in DistDancing, a project that took off in June under lockdown, which offers free, surprise performances for passers-by while arts venues are still closed.
Since closing its doors to the public on 17 March, the Royal Ballet has offered a series of live streams, but is still unable to welcome live audiences back to its Covent Garden venue.
This wonderful project was founded by Chisato Katsura, a First Artist whose landlord owns the Hoxton Docks project. She told the MailOnline: "At the moment it's very much non-profit. It's more like a gift from us artists to the world.
"We are not ticketing audiences, it's all for free. It's really just for people stumbling upon this event – it's a surprise, basically."
Aren't we lucky to live in a world where artists will give generously, despite times for the arts being tougher than ever.