From The Back Desk - Gareth Davies, London Symphony Orchestra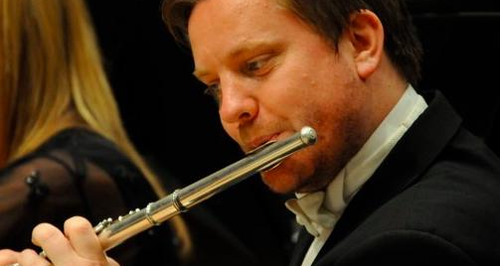 The LSO's principal flautist and host of The Show Must Go On on Classic FM, Gareth Davies, lets us in on some orchestral secrets - and tells us why he'll always check his trousers before going on stage.
Name: Gareth Davies

Instrument: Flute

Ensemble: London Symphony Orchestra

Why did you decide to become a musician?
I didn't, it just sort of happened! My parents aren't musicians but my brother (he's the guitarist in The Bodyguard musical at the moment) and I enjoyed it and kept at it. Eventually I went to music college and managed to get a job in an orchestra when I was 23.

What's the one performance from your career that sticks in your mind?
For sheer 'pinch yourself to check you're really there' performances it would have to be playing in the opening ceremony of the London 2012 Olympics. I'll never forget that!

What's the most embarrassing thing that's happened to you on stage?
I played in the Young Musician of the Year back in 1990, which was televised. It was only when I went to the loo after I'd played that I realised I had done the whole performance with my trouser zip undone. That's pretty embarrassing. It's probably on YouTube by now...

If you could work with one musician, living or dead, who would it be and why?
JS Bach. Because his is the music I keep coming back to and never tire of. I'd love to know how he managed to write so much extraordinary music in so little time.

In concert, have you ever thought, "I can't actually play this bit very well, I'm going to mime and hope no-one notices"?
Er… no.

Could you give us an example of the downside of the profession, something that the average concert-goer might not know about?
We work a lot, it's not just the evening concert. We usually start at 10am and quite often finish at 10pm and then are back the next morning. The financial rewards are not very good and there isn't much of a safety net if it goes wrong. Touring means I have long periods of enforced separation from my family too, which I don't enjoy.

Does the touring lifestyle bring out rock star behaviour in the orchestra?
Not really these days. Touring can be great, seeing the world, but it's also hard work. We do know how to enjoy ourselves after concerts though. Sadly flat screen TVs just aren't as good at smashing from hotel windows as the old ones, so we don't bother anymore.

Have you witnessed any serious diva strops in your time as a musician?
There was a singer once who demanded a wall be built backstage so that he or she didn't have to mix with the riff-raff of the orchestra. Not a strop but a pretty excessive demand!

What's the biggest challenge facing musicians like you these days?
Funding for the arts is continually under pressure but I think it's vital that we continue to support it at every level.

What's the best thing about being a musician?
I work with some great people and play wonderful music for a living. There aren't many jobs where you can visit the places I've been to and work with people from Valery Gergiev to Paul McCartney! When I'm onstage playing, it's all worthwhile.
Make sure you tune in to Gareth's show about the history of the LSO and their most recent tour: more information here.