Can we please just take a moment to recognise how incredible Janine Jansen sounds here?
28 July 2016, 16:55 | Updated: 9 August 2016, 15:41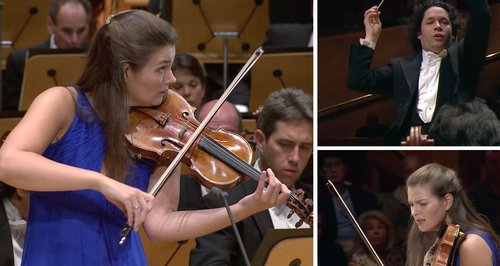 Janine Jansen plays Mendelssohn's violin concerto with total flair and commitment, ably backed by the LA Phil, who you can hear every Monday in August in The Full Works Concert.
So by now you should know that Janine Jansen is one of the best violinists around:
But what does she sound like playing the Mendelssohn Violin Concerto, we hear you ask? Take a look at this video from 2011, in which she and Gustavo Dudamel and his trusty LA Phil totally slay this monster of the violin rep:
And if you require more of this sort of thing, may we direct you towards Classic FM's Full Works Concert? Every Monday in August at 8pm we're featuring a different concert from the LA Philharmonic.
Concert no.2 in the series included Principal Trumpet Thomas Hooten, a Florida native, and Principal Horn Andrew Bain, originally from Australia, performing Haydn's Trumpet Concerto and Mozart's Horn Concerto.
On Monday 15 August, Jane Jones has two exclusive recordings to share including Mozart's final piano concerto, which took him nearly three years to complete, and is often said to be one of his most personal. Complementing this is a majestic recording of Bruckner's symphonic swansong, which he worked on for most of his last two years.

Mozart: Piano Concerto No.27 in B-flat K.595
Richard Goode
Bruckner: Symphony No.9 in D minor
Los Angeles Philharmonic Orchestra/Herbert Blomstedt