Mirga Grazinyte Tyla: why CBSO's new music director is so awesome
4 February 2016, 09:32 | Updated: 22 August 2017, 12:45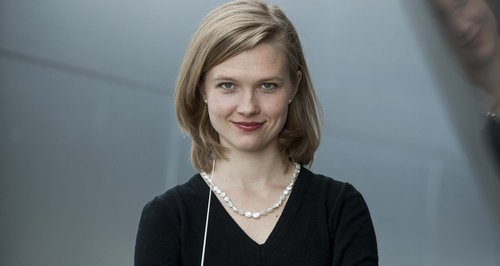 The City of Birmingham Symphony Orchestra has made a name for itself as a spotter of rising talent. So when it announces a new music director, the classical world takes notice.
Who is she?
Mirga Gražinytė–Tyla is a 29-year old Lithuanian conductor who has been with the Los Angeles Philharmonic (i.e. Gustavo Dudamel's gig), since becoming a Dudamel Fellow in 2012. She'll become Associate Conductor there in July. She's also Music Director of the Salzburg Landestheater and has debuts coming up with the San Diego and Detroit Symphony Orchestras.
Wow. So how come she's heading to Birmingham?
She made her debut with the City of Birmingham Symphony Orchestra - which also happens to be Classic FM's Orchestra in the Midlands - in 2015 and was promptly invited back to conduct a concert of Debussy, Sibelius and Schumann in January this year.
The CBSO is known for its canny talent-spotting – the orchestra's previous music directors have been Andris Nelsons, Sakari Oramo and Simon Rattle, all of whom are now among the very top conductors in the world. So we're basically super-excited about Mirga.
Wait, so they've appointed her on the basis of two concerts?
Yup. Like we said, she's awesome. Watch:
Ok, give me some background on her
She studied in Zurich, Leipzig and Bologna and Austria (yes, all of them) and in 2012 she won the Nestlé and Salzburg Festival Young Conductors Award – before heading to LA. She's also worked with some of the biggest orchestras around the world including the Danish Radio Orchestra Copenhagen, the MDR Orchestra Leipzig and the Beethoven Orchester Bonn.
What does she have to say about it all?
On conducting:
"Conducting is a combination of music and communicating with musicians."
On the CBSO:
"Every single musician of the CBSO is an artist with great individuality and sense of responsibility. They are driven to be one of the world's leading orchestras and their shared spirit for team work helps them to achieve this. I felt so at ease working with the Orchestra at the CBSO Centre and at Symphony Hall and I can't wait to get started and to call these my homes too."
On being a female conductor:
"I really have never felt any disadvantage compared to my male colleagues. At the same time I am well aware of other female conductors – some friends of mine and older colleagues – who had to work hard to achieve equal rights.
"Since it is still an important question, we definitely have to keep working on it until there is not such a question any more."
Mirga was interviewed by Charlotte Green in February. Listen to a clip below:

And how about those all-too-difficult-to-please reviewers?
Well, after a recent gig in Birmingham, The Guardian wrote: "It was easy to understand why she has gone down so well in Birmingham. Her platform style is certainly distinctive… but for once such balletic poses really did communicate something wonderfully alive and detailed to the players, a performance with fresh, clear textures and an unswerving sense of shape."
And what about us?
We say, 'Brava, Mirga'. We can't wait to hear what you do with our Orchestra in the Midlands!