This 16th-century motet is staggeringly beautiful
30 November 2016, 15:51 | Updated: 27 March 2017, 17:08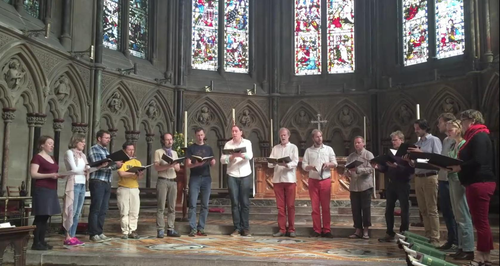 Here's Chamber choir Vox Luminis, in the stunning acoustic of the Chapel of St John's College, Cambridge. And we think it's very special.
Here's proof, in case you needed it, that sometimes the most beautiful music is the simplest.
Thomas Tallis's motet 'If ye love me' is a relatively straightforward four-part, mostly homophonic motet (i.e. the harmony moves on every beat, like to a hymn).
It comes from the Anglican Reformation in England in the mid-16th century, where music was usually uncomplicated and the English text clear and audible. But listen to the way Tallis uses subtle moments of dissonance and movement to colour the words of the text and give it passion and depth of feeling.
It's one and a half minutes of exquisite bliss:
...and to follow that up, a bit more Tallis, but this time in Latin, with added fruity harmony, and recorders. Here's a beautiful 'O sacrum convivium', thanks to the fantastic musicians of Seldom Sene.