Classic FM's Composer in Residence has written a special piece that anyone in self-isolation can learn and play
22 July 2020, 16:44 | Updated: 3 August 2020, 08:49
Watch, learn and download the sheet music for Debbie Wiseman's 'Together' here.
Classic FM's Composer in Residence, Debbie Wiseman, has composed a piece of music inspired by solidarity in the face of the current health crisis, and is inviting you to join in with learning it and playing it.
Written originally for solo piano, Together is a work dedicated to anyone in self-isolation in the company of a piano – or any other instrument or object that can make a sound – with both 'starter' and 'advanced' parts available to download below.
"With so many of us at home, I wanted to write something to inspire Classic FM listeners, and my new piece Together was written for everyone who may be at home or self-isolating and feels inspired to get involved," Debbie says. "The idea is for this new piece to be interpreted in as many different ways as possible – the piano sheet music is available (both starter level and advanced) and even if you don't read music, just listen and pick up by ear."
Click here for the latest coronavirus advice from the NHS >
As well as downloading the parts below, you can listen to Debbie's piece here (above) to help you learn it by ear.
We would love to hear your interpretations of Together, be they at the piano or on another instrument you can play. The piece can be played solo, or with other members of your household, as a duet or trio or more, and even with added percussion or lyrics (pots and pans won't be frowned upon!).
All that's left to do now is to download the parts (below) and listen, and let us know how you get on! Send us videos or audio of your performances of Together on Twitter or by getting in touch here, and listen out for Together on Classic FM so you can play along whenever you hear it.
"With music, we can all come together as one," Debbie reminds us. "Happy music-making!"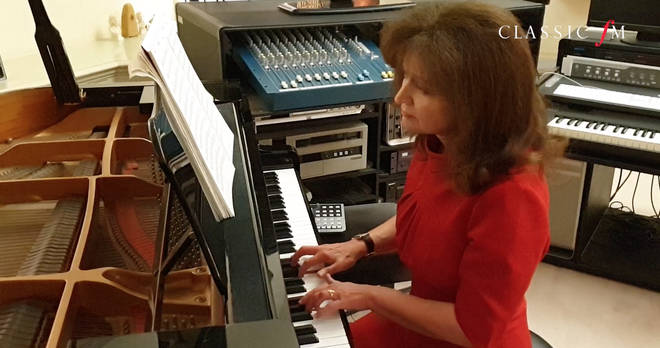 Watch and hear new interpretations of Debbie Wiseman's Together
We have loved seeing and hearing your versions of Together. 
Watch interpretations by harpist Skaila Kanga, percussionist Dame Evelyn Glennie, cellists Justin Pearson and Pedro Silva, and composer Kevin Anthony, among many others, in the videos below. Keep sending us your versions, and we'll share as many as we can!
In the video below, originally posted on YouTube, tenor Justin Gonzalez performs a version of Together with beautiful and poignant lyrics by Stephanie Davis. "Please stay at home and protect your brothers / Stay home and save the lives of others," Gonzalez sings – full lyrics below.
Please stay at home and protect your brothers
Stay home and save the lives of others
Picture a world without our mothers
This, too, shall pass, will not last forever
Pray for the helpers who guide us
Who dare to risk their safety
Who cannot be with family
Please stay at home and protect your brothers
Stay home and save the lives of others
Picture a world without our mothers
Patience, my child, it will all get better
Love those who stay beside us
Who dare not risk your safety
They do it (For me?) For you. (For me?)
Please stay at home and protect your brothers
Stay home and save the lives of others
Imagine a world without our mothers
Someday soon, we will be together
Challenges far, far behind us
So, please, stay at home and protect your brothers
Imagine a world we saved for our mothers
Amy Page has sent a version by her and her family, who have turned Together into a beautiful song (listen below). Amy is singing and playing the piano, with words written by Amy's mum, Elley and production and field recording have been done by her dad, Matt.
And Margaret has learnt the piece on piano (below).
And we loved hearing Iona & Catriona Hay's violin duet version of Together – sent in all the way from Palmerston North in New Zealand:
Another version for violin – but this time with piano, from Anthea and Audrei:
Flautist Stephanie Payne has shared her version:
And lovely new versions keep appearing...
Debbie Wiseman is a British composer, conductor and presenter, best known for her work in television and film. In 2004, Debbie was awarded in MBE for her services to the film industry, and in June 2018 was made an OBE for services to music.
Debbie was appointed Classic FM's Composer in Residence in 2015.
All audio images: via Getty