Conductor Vladimir Jurowski tells audience to 'let climate protestors speak' as they interrupt Bruckner symphony
11 September 2023, 11:29 | Updated: 11 September 2023, 17:14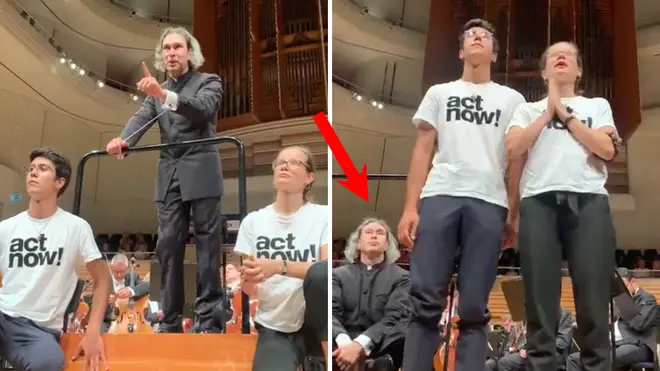 Two climate protestors interrupted a concert at a world-leading classical music festival, and conductor Vladimir Jurowski asked the audience for quiet as the activists "had their say".
A performance of Bruckner's Symphony No.4 at Switzerland's Lucerne Festival was interrupted on Friday by two climate protestors. And rather than having them escorted from the stage as is usually the case, conductor Vladimir Jurowski pleaded with his audience to let them speak.
Standing at the podium, the maestro asked the audience to listen respectfully to the two young activists, "and then we'll play", he said referring to the Bavarian State Orchestra behind him.
"We made a deal," the Russian conductor said in German. "The young people will have their say now, and we're all going to listen, no comments."
As some members of the audience began to heckle, Jurowski continued: "I promised, I gave my word of honour, that there would be no comments. We'll let them finish and then they let us play the fourth movement.
"Please help me out!" he concluded, to cheers from the audience.
One of the activists then began to speak about the climate emergency, starting: "We are very sorry that we have to interrupt this concert."
Read more: Romeo and Juliet ballet performance interrupted by climate change protesters
Conductor Vladimir Jurowski tells his audience to let two climate protestors speak, as they must be heard. He says he will only play after they have spoken, and otherwise he will leave the stage.

Powerful stuff. 👏 pic.twitter.com/zhbTf5ar3I

— Brendan May (@bmay) September 9, 2023
As some audience members once again shouted out, Jurowski pleaded: "Let her talk. Otherwise, I'll get off the stage right now, if you don't let her finish."
The clip, which has had millions of views, was originally shared on Twitter by Renovate Switzerland, a campaign launched in 2022 to help address issues of climate change and the energy crisis.
Last year Jurowski, who is general music director of the Bavarian State Opera in Munich and chief conductor of the Berlin Radio Symphony Orchestra, initiated an open letter calling to 'Stop the war against Ukraine and stop the blanket boycott against Russian and Belarusian artists.'
Lucerne Festival's director Michael Haefliger has since released a statement saying, "We regret that yesterday's concert was interrupted by 'Renovate Switzerland' climate activists. In general, we support standing up for environmental issues. However, we have no sympathy at all for the way the two activists acted. They disturbed our audience and artists.
"Conductor Vladimir Jurowski reacted calmly and constructively and gave the activists the opportunity to briefly express themselves. In order to avoid escalation, they were not forcibly removed from the hall. Thus, it was possible to continue the concert after four minutes."