Tine Thing Helseth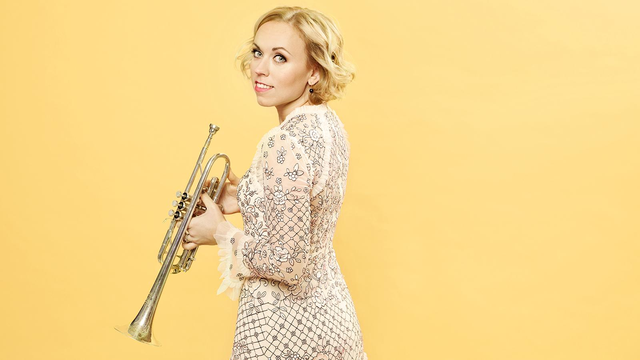 Tine was born on August 18th, 1987 in Oslo, and began playing trumpet at the age of seven.

She has given recitals in Berlin, Brussels, Luxembourg and New York, at the Carnegie Hall. She has also performed with the Orchestre de Lille, the Prague, Danish and Swedish Radio orchestras, the Gavle Symphony, Swedish Chamber and NDR Hannover orchestras as well as a tour of Switzerland and Germany with the Trondheim Soloists.

Helseth's debut album 'Classical Trumpet Concertos', recorded with the Norwegian Chamber Orchestra, was released in November 2007 on the Norwegian Simax label and named 'Classical Recording of the Year' by the Norwegian newspaper 'Aftenposten'. Also on Simax, her second album 'My Heart is Ever Present', a collection of Tine's favourite Christmas songs and hymns released in November 2009, went to 'gold' in the Norwegian classical chart after just three weeks.

Appearances for Tine at European festivals have included the Schleswig-Holstein, Bergen International and Kissinger Summer Festival where, in 2007, she was awarded the Luitpold Prize as the most outstanding and interesting young artist of the year.

Amongst the long list of awards garnered by Tine, she has received the 2009 Borletti-Buitoni Trust Fellowship, 'Newcomer of the Year' at the 2007 Norwegian Grammy Awards (the first classical artist ever to be nominated), second prize in the 2006 Eurovision Young Musicians Competition and the prestigious Prince Eugen's Culture Prize in Stockholm.

She releases her new album 'Magical Memories', on Friday 28 May 2021 on LAWO Classics. Her first UK release in eight years, the recording is made up of Helseth's personal favourite pieces, which explore the full sound, range, and moods of the instrument – including works by Charpentier, J.S. Bach, Grieg and Telemann, as well as contemporary works by Swedish composer Sjöberg.

"This is a very personal album to me. Whilst I was growing up my mother also played the trumpet, and many of these pieces are works that I listened to laying on the floor next to the organ whilst she was at rehearsals," Helseth says. "She took me from when I was 6 weeks old! Other tracks are just lovely melodies and songs that people often use on special occasions: happy or sad. So, the album is filled with my musical memories and my hope is that it will bring musical memories to the listeners as well."

Tine is the leader of an all-female brass ensemble called tenThing, who released their first album in 2012.
View more
Discover Tine Thing Helseth