'The normal life of a band is four or five years – we've been here for 12 because of our fans' says Il Divo
10 December 2015, 12:59 | Updated: 10 December 2015, 13:59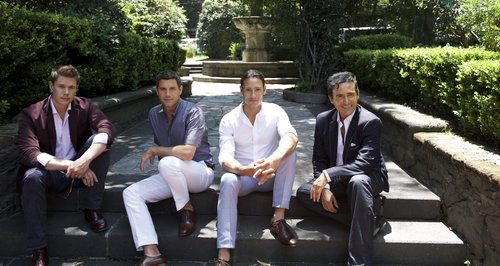 The most glamorous foursome in classical music are back with a new album called Amor & Pasión. They popped into the studio (minus Sebastien, who was nursing a bad back) to talk about the new recording, why they're so grateful to their fans and performing with Barbra Streisand.
Your new album, Amor y Pasión, is full of the music of Latin America – how did you choose the tracks to include?
Urs: The idea for the new album came up actually a couple of years ago when we were backstage at a TV show in the idea of making an album with only Latin music came up. We wanted to gather together the greatest standards of the Latin American repertoire – we were looking basically for the Latin American equivalents of 'My Ways' and 'Unchained Melodies'. We gathered a list of hundreds of Latin American songs and then we had a few listening sessions where we made our choices and narrowed that repertoire down until we finally got the 12 songs.
And why did you call it Amor & Pasión?
Carlos: We wanted a title that would represent the whole record. Amor & Pasion means 'Love and Passion' and that's what all those songs are about. One of the good things about Latin music is that there's always a story to tell – that she loves him, that he left her or the other way round!
You've got a huge international tour coming up – what are the best and worst things about being on tour?
Urs: The worst thing is that unfortunately when you tour for months you have to save all your energy for your show at night. So you're travelling the whole world and you can't enjoy that anymore because you literally go from airport to hotel room to try and catch a couple of hours of sleep before you go on stage. While performing on stage and singing is just pure pleasure, when you've been on tour for three or four months it is hard work.
What's the most memorable place you've performed?
David: For me, it would be Madison Square Gardens with Barbra Streisand in 2006. Everyone was there – political figures, Hollywood royalty, music royalty, actual royalty. You looked into the audience and recognised every single person. At the time we were still quite new on the scene and a lot of people didn't know this act that Barba had woven into her show – she took a real big risk doing that, rather than having us as the opening act.
Who are your musical idols?
Carlos: Each of us has different inspirations. Myself, I listen to Tom Jones, the oldies like Frank Sinatra and I'm also a big fan of 80s music like Queen, Spandau Ballet and Duran Duran.
Urs: When I was doing my classical studies I had my favourite tenors like Luciano Pavarotti, Fritz Wunderlich, Plácido Domingo and they'll always be up there inspiring me. But I also love a lot of hard-rock and heavy metal. The most played song on my playlist, though, is Taylor Swift's 'Shake It Off' because my seven-year-old daughter played it on repeat on a two hour journey throught the Alps recently…
David: When I was at the conservatory I listened to all of the great tenors like Jussi Börling, Pavarotti and Alfredo Kraus. Then I became an opera purist – the only thing I listened to was recordings of different operas. But at some point I rebelled and started listening to techno and electronica and right now I'm listening to quite a bit of dub-step.
You have fans all over the world – what's it like to have such a loyal fanbase?
Carlos: It's amazing – that's what we're here for, for sure. We've been together for 12 years because of them. Usually the normal life of a band is four or five years but then when you cross this bridge and you still have these fans supporting you worldwide everywhere you go, it's amazing.
Urs: We appreciate it very much. We're aware that these people are the reason we can do what we love the most. We wouldn't have the career we do, the pleasure of travelling the world and singing wonderful music. We're grateful that these people are there for us and we want to be there for them as much as we can.
Did you see the fan messages that Il Divo recorded at Classic FM? Were you one of the lucky fans who received a message from them?
Il Divo's new album Amor & Pasión is out now and available from Amazon or iTunes