How to listen to David Walliams' Marvellous Musical Podcast on Global Player
28 January 2019, 09:41 | Updated: 4 February 2021, 09:01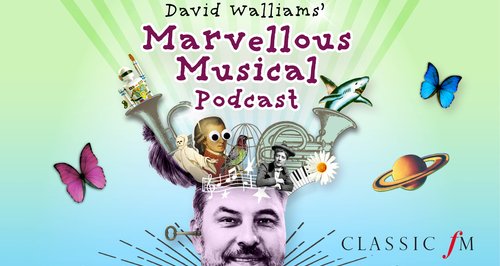 If you're reading this in Global Player – here's how to listen to, subscribe and download our new podcast
Welcome! And congratulations for making the excellent decision to listen to our MARVELLOUS new podcast, presented by the best-selling children's author David Walliams.
If you're reaching this in Global Player, the official Classic FM app, read on! If not, find out how to listen to David Walliams' Marvellous Musical Podcast here.
If you're reading this on an iPhone or iPad
You're in the Global Player already, so here's what you need to do:
1. Tap on the 'Radio' icon on the bottom left of your screen to return to the Classic FM homepage.
2. Then, tap on the triangular icon on the top right of your screen that says 'Home'. This will take you to the Global Player home screen.
3. Select 'Podcasts', in the menu at the bottom of your screen. Et voilà, as Debussy might have said, you'll see David Walliams' Marvellous Musical Podcast
If you're reading this on an Android device
Podcasts are coming soon to the Global Player for Android. So in the meantime, why not listen to David Walliams' Marvellous Musical Podcast via Google Podcasts:
You can also listen to every episode right here on this page: