Three incredible, emotional opera moments from the New York Met
4 January 2018, 17:37 | Updated: 5 January 2018, 12:58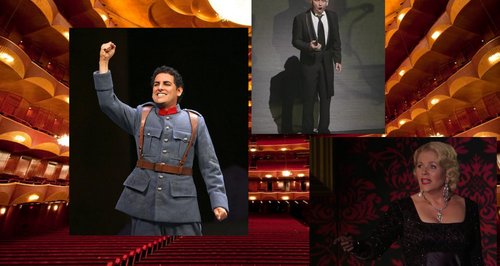 Nothing beats the power and emotion of opera - here are three moments to make your heart pound and your eyes well up.
On stage at a great opera house, you'll always find the greatest music, spectacle, and the sheer emotional power of the human voice.
The Metropolitan Opera in New York has seen more than its fair share of these extraordinary moments, from career-making debuts to heart-stopping high notes and emotionally charged farewells. Here are just a few of our favourites.
You can also get close to opera from The Met in your local cinema with The Met: Live in HD. The biggest stars of the opera world will be singing masterpieces by Puccini, Donizetti and Mozart – take a look at what's coming to your local cinema here.
When Juan-Diego Florez brought the house down (and HAD to do an encore)
In 2008, no singer had performed an aria again mid-performance at The Met for 14 years (the last singer being the great Luciano Pavarotti at the height of his fame in 1994). But then, a certain Peruvian tenor came along...
And Juan-Diego Florez absolutely nailed it, sending the crowd into raptures. The ovation was such that he had to sing it *again*. That's 18 top Cs in total, and every one of them an absolute belter. Listen to the incredible moment here.
Dmitri Hvorostovsky's emotional return to the stage
In November 2017, the great Russian bass-baritone Dmitri Hvorostovsky passed way, aged just 55. He had been fighting a brain tumour for several years.
In May 2017 he stepped on stage in New York. While battling the brain tumour, Hvorostovsky made a surprise appearance at The Metropolitan Opera Gala. He walked on stage unannounced, in his trademark black suit, and treated the audience to 'Cortigiani, vil razza dannata' from Verdi's Rigoletto.
This was a moment of pure emotion and power.
Renée Fleming's magical farewell
Renée Fleming is one of the great divas of our time. In 2017, she made the final performance of a role she has made her own throughout her career: the Marschallin in Richard Strauss's Der Rosenkavalier. Here's the climax of this incredible opera, as the Marschallin says farewell to her love. Just perfect.
Make sure you don't miss the magical moments in the current season at the Metropolitan Opera, including Tosca featuring Sonya Yoncheva and Vittorio Grigolo live on January 27 – visit The Met: Live in HD and experience it all in your local cinema.