Three legends of classical music just played an exquisite piano trio – exclusive video
9 July 2019, 15:21
Lisa Batiashvili, Gautier Capuçon and Jean-Yves Thibaudet came together at this year's Audi Summer Concerts to play an intimate concert of piano trios. We caught up with the star soloists before the concert to find out how they were feeling…
Over the last week and a half, the Audi Summer Concerts have been taking place in Ingolstadt, Germany, with the brilliant Georgian violinist Lisa Batiashvili as Artistic Director.
For one uniquely beautiful concert, Batiashvili was joined by the legendary cellist Gautier Capuçon and pianist Jean-Yves Thibaudet to play music by Ravel, Mendelssohn and Shostakovich.
"We have been touring quite a lot with this programme together, and it has been a dream for many years to be together and make music," Capuçon told us after their rehearsal. "We have been great friends for many years."
"It's just about joy, and I think music is about this: sharing these intimate and joyful moments together with the audience."
Batiashvili, who is German-born but Georgian by birth, spent the first few years of her life in Ingolstadt – the city to which the Georgian Chamber Orchestra moved 29 years ago.
"Ingolstadt is a place where I'm going back to childhood and my first experiences in Germany. The connection to the city means a lot," she smiles.
"I think music is the most universal language. You can share your emotions all around the world with music.
"It's my personal aim for the next couple of years, to make this festival more international and more exposed, but also to get more awareness from people around the world."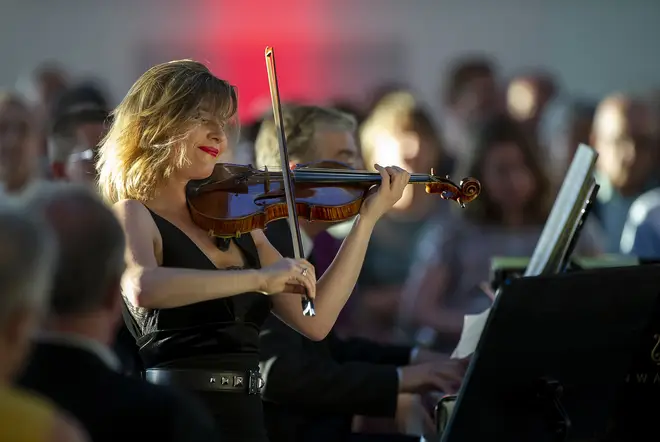 Watching the three musicians play together is extraordinary. The rapport they have on stage, from Capuçon's sidelong glances over the piano to Batiashvili's energy and agility, is electric.
"We're playing music together. It doesn't matter if you share it with two people, ten people or an orchestra," says Capuçon.
"It's a different way of communicating, because the contact is direct and very intimate, but the process is the same. It's a question of opening yourself, listening and sharing."
The Audi Summer Concerts will continue until 14 July in Ingolstadt, Germany.