The Metropolitan Opera fires conductor James Levine after finding 'credible evidence' of sexual abuse
13 March 2018, 11:05 | Updated: 13 March 2018, 11:47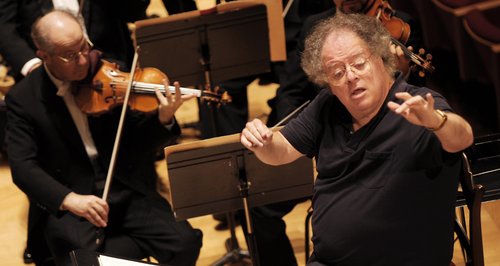 The New York opera house has ended its relationship with its disgraced former music director after an external investigation found reports of sexual abuse to be credible
James Levine was The Met's music director for 40 years until 2016, when he became emeritus music director, a position he held - along with the role of artistic director of the opera house's young artists programme - until his firing this week.
Since December, four men have come forward to say that the conductor sexually abused them. The abuse dated back as far as 1985, with one alleged victim claiming he was molested when he was just 15.
In a statement released yesterday, 12 March, The Metropolitan Opera said that the external counsel brought in to investigate the claims had found "credible evidence that Mr Levine had engaged in sexually abusive and harassing conduct both before and during the period when he worked at the Met".
The statement went on to say:
"The investigation also uncovered credible evidence that Mr. Levine engaged in sexually abusive and harassing conduct towards vulnerable artists in the early stages of their careers, over whom Mr. Levine had authority. In light of these findings, the Met concludes that it would be inappropriate and impossible for Mr. Levine to continue to work at the Met."
Levine, now 74, has previously responded to the accusations by saying they were "unfounded". In a statement released in December he said:
"As anyone who truly knows me will attest, I have not lived my life as an oppressor or an aggressor."
The investigation included interviews with more than 70 people and was carried out by and Robert J. Cleary, a partner at the Proskauer Rose law firm.
It's a spectacular fall from grace for Levine, who had risen to become the most famous musicians in America since the 1960s, with a stint at the Boston Symphony Orchestra as well as his 40-year tenure at New York's Metropolitan Opera.
In December the BSO released a statement emphasizing its 'zero-tolerance policy' towards inappropriate behaviour in the workplace.