Benjamin Grosvenor played a virtuosic Ravel Toccata on a Casio keyboard. And it sounded spectacular.
8 September 2015, 10:03 | Updated: 5 January 2017, 13:38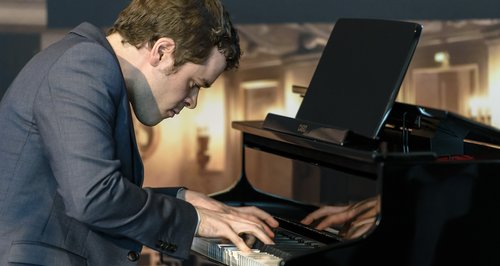 Can a keyboard withstand the most virtuosic pianism from the world's top classical players? We went to Berlin to find out...
Here's a super-attractive Bechstein grand piano
But what do you get when you cross this, one of the world's finest concert grands, with a keyboard? Read on…
This...
Introducing the CELVIANO Grand Hybrid...
We went to Berlin for the unveiling of this stylish instrument and, more importantly, to find out just how close to a grand this instrument actually is.
The keys: basically like a grand piano
They are made of the same sprucewood material as in a Bechstein grand. We found a demonstration Celviano that allowed you to see through to the inner workings. Important reminder: do not be fooled, this is a picture of an electronic piano.
The action: basically like a grand piano
The keyboard of the Celviano features a hammer-action mechanism meaning that it has the response and nuance of a grand piano. As the organisers had handily placed the new Celviano next to the Bechstein grand, we had a go on both to compare. The result? Under the fingers, to our touch, they were pretty much identical.
And how does it sound?
Enter young British piano virtuoso, Benjamin Grosvenor. Wanting to put this instrument through its paces with something textured and virtuosic, he reached for some Ravel piano scores. Understandably.
Here he is, with the full colour and splendour of Ravel's Toccata from Le Tombeau de Couperin.
Here's what he had to say:
"It feels satisfyingly weighty under the keys [and] feels like a real piano under the fingers. For me the fact that this has a real action in it is a real selling point."
The mechanism is called the AiR Grand Sound Source, and it's designed to mirror the sound and rich reverberation of a grand.
The late-night improvisation test
Later it was the turn of Venezuelan pianist Gabriela Montero to take the piano for a spin. Montero's an epic improviser, and on the night spontaneously (and brilliantly) reworked pieces in Classical, Baroque and Tango styles. Here's an excerpt from her Bach-esque fugue on the theme of Nino Rota's The Godfather. Stunning stuff.
And not to forget this major selling point…
It's a keyboard. So while you can have the sound of a grand you don't need five burly movers and this sort of struggle to get it into your flat:
Fancy it? Here's where you can find out more about the CELVIANO Grand Hybrid.