Audience members defend concertgoer who 'immediately apologised' to Anne-Sophie Mutter for filming
1 October 2019, 12:36 | Updated: 3 October 2019, 14:53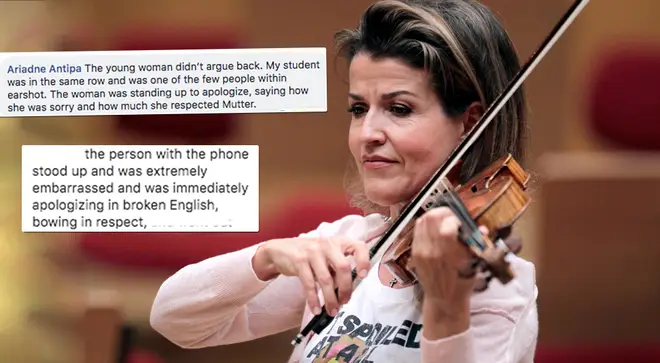 One audience member said of the incident: 'she went out by choice, crying'.
Yesterday, we reported that Anne-Sophie Mutter stopped mid-concerto to tell an audience member to stop filming her performance.
"Either I will leave, or you will put away your phone and recording device," the violin virtuoso was reported to have said.
After an exchange of a few minutes, the audience member was apparently escorted out of the Cincinnati Music Hall, where Mutter was playing Beethoven's Violin Concerto with the Cincinnati Symphony Orchestra (CSO).
But now, people who attended the concert have been voicing their support for the audience member on social media, saying the reports that she started arguing with the German violinist are inaccurate.
"The story has it wrong," one concertgoer wrote on Instagram. "The person with the phone stood up and was extremely embarrassed and was immediately apologizing in broken English, bowing in respect, and went out by choice crying.
"This is from a first-hand account from a friend sitting three seats away from the young woman. She was not arguing. I agree people are glued to their phone too much but don't misrepresent what actually happened."
Another concertgoer also defended the young audience member, saying on Facebook: "The young woman didn't argue back. My student was in the same row and was one of the few people within earshot.
"The woman was standing up to apologize, saying how she was sorry and how much she respected Mutter."
Should smartphones be allowed at classical concerts?
The incident, which occurred over the weekend, opened a wider discussion on social media about the presence of smartphones at classical concerts.
"It is simply common courtesy, folks," one Facebook user argued. "You pay for the privilege of listening to a professional musician perform without distractions. If you want a recording, buy one – if you want a movie, purchase a DVD. Respect the performers and honor their rights in the concert hall."
Some readers have reasoned that many venues – including the Cincinnati Music Hall –stipulate that no recording devices are allowed during performances.
"It's distracting to the performers and to nearby audience members," a Facebook user wrote. "I totally support her insistence that the phone be put away."
Other readers have suggested that Mutter's approach is damaging to the presence of young people at classical concerts.
"This is a great way to keep young people away from the symphony," one user wrote on Facebook, while another argued: "A lot of young people would never know of her and her music if someone didn't post her on YouTube."
But we don't allow smartphones at the theatre, the cinema or the opera...
After reading everyone's comments, we found ourselves asking the above. Why should classical concerts be any different?
In theatres, we put our phones away so as not to disturb the actors and fellow audience members. A few years ago, Benedict Cumberbatch called on his army of fans to help put an end to the recording of plays on smartphones, saying he found the distraction of red lights in the auditorium "mortifying".
So using the same argument, if you want to enjoy a sublime moment of Beethoven in peace – without someone's phone light glaring in your eyes – you should be allowed to.
But in the case of the Beethoven concert, we also need to ask ourselves: what if that particular audience member was experiencing classical music live for the first time? And if so, what impression are they now going to leave with?
Artists and orchestras are free to deal with phones in concerts in different ways. We just hope that concertgoers who are used to the presence of smartphones at pop and rock gigs – and who have never been to a classical concert before – don't feel alienated by this.