Bedrich Smetana
Biography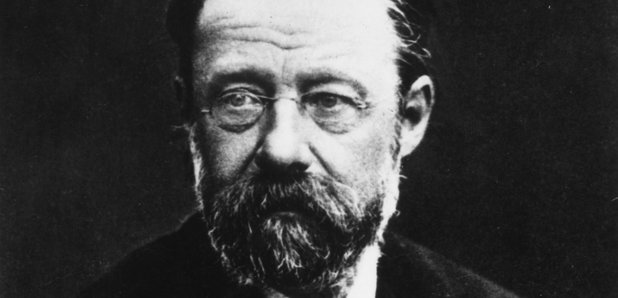 Bedrich Smetana (1824–1884) created a new musical identity for the Czechs, inspired by popular legends, history and countryside. Now Smetana is recognised as the vital force in establishing Bohemian music around the globe - and not even his successor Dvorak made his homeland such an indelible part of his musical style.
Life and Music
Due to his father's resistance, Smetana's hopes of a musical career seemed remote until he secured a job teaching piano to the German family of Count Leopold Thun, which paid for his own tuition with the renowned Josef Proksch.
Smetana launched himself 'on tour' as a concert pianist in the summer of 1847, but the turnout at the first venue was so low that he cancelled the tour.
Short of money, he set up a piano school in Prague in 1848 and scraped together a living.
Smetana married his childhood sweetheart Katerina Kolárová, who bore him four daughters, three of whom died tragically.
Smetana moved to Sweden in 1856 to search for a teaching post. Appointed director of the Göteborg Philharmonic, he was embraced by the Swedes as both a pianist and conductor.
Katerina died in 1859. The following year, Smetana married his brother's sister-in-law Bettina Ferdinandová.
Smetana finally established himself with his second opera The Bartered Bride, and became director of the Prague Provisional Theatre.
It was the second in the cycle, Vltava ('Moldau') of Má Vlast ('My Fatherland') - a set of six nationalistic symphonic poems, which follows the progress of Bohemia's most celebrated river, that became his most popular work.
Meanwhile, a syphilitic infection was starting to affect Smetana's hearing. During 1874 he became totally deaf in one ear and was forced to resign from his post at the theatre.
Smetana's worsening condition undermined his sanity and he spent the last three weeks of his life in an asylum.
Did you know?
One of the most notable times Má Vlast was used was as a political expression of nationalist solidarity during the 1944 Prague Spring Festival to celebrate the 120th anniversary of the composer's birth.
Find out more about Smetana's Má Vlast. Watch and listen to different recordings and download your favourite.
8 June: This outstanding and electrifying performance of orchestral music by Smetana is one of the best CDs of the year so far.
They might be named after the Czech composer, but it's on the piano works of Suk and Novák that the Smetana Trio really shine
Jane Jones reviews Harnoncourt and the Vienna Phil's rendition of Smetana's Má Vlast