The Ultimate Classic FM Chart
23 August 2017, 10:46 | Updated: 24 August 2017, 10:24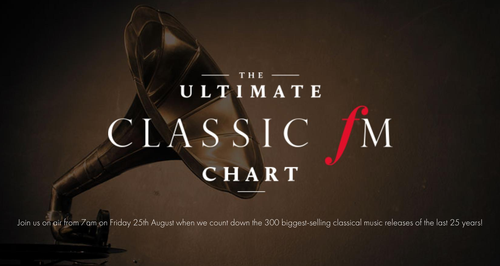 This August bank holiday weekend, Classic FM will reveal the biggest ever chart of classical music sales from the past 25 years, as part of our 25th birthday celebrations.
Every album sale since 7th September 1992 – the day that Classic FM launched on air – will be included, resulting in a top 300 that reflects the nation's classical music tastes over a quarter of a century.
From 7am to 7pm across four days this weekend, Classic FM's presenters will countdown The Ultimate Classic FM Chart for the very first time. The number one best-selling classical album revealed by John Brunning just before 7pm on Monday.
To be in with a chance of winning all top 10 albums in The Ultimate Classic FM Chart, enter here!
So, join us for this fantastic celebration of successful classical music releases – starting this Friday 25th August at 7am. Listen to the countdown live on our Classic FM Radio Player and follow the chart as it is unveiled here. Missed part of the countdown? Catch up on Listen Again.