Musical Keys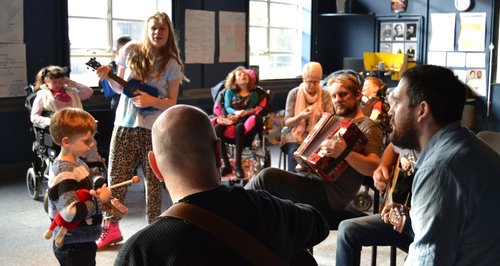 Musical Keys provides disabled people of all ages with access to music and the arts.
People with physical or learning disabilities often experience disadvantages over their able-bodied peers, including social exclusion, low self-esteem, isolation and limited life expectancy. Musical Keys has developed a programme of music, movement and arts activities designed to enable participants to learn new skills, improve their coordination, and gain confidence through fun and interactive sessions.
Last year, the charity helped 5,354 disabled people in over 500 sessions. These sessions helped participants develop social skills (e.g. eye contact, sharing, being in a group, listening) and learn new skills that can develop into hobbies.
Musical Keys also provides an opportunity for parents and carers to relax, learn new techniques and socialise with other families in similar situations to improve their wellbeing.
Natalie is 35 but has a mental age of 18 months. Her mum contacted Musical Keys last year, and said:
"Natalie has always loved music and responds so well to these sessions. They always make her smile. She attends regularly and enjoys the social interaction with her friends as well as the musicians. Her carers also get to attend the session and love watching Natalie enjoy herself, as well as enjoying a good sing and dance themselves."
Global's Make Some Noise is proud to support Musical Keys in continuing to deliver access to music and creative arts for people with physical or learning disabilities.