'Star Wars was the gateway drug to symphonic music for me', says Avengers composer Brian Tyler
20 April 2016, 15:45 | Updated: 20 April 2016, 16:36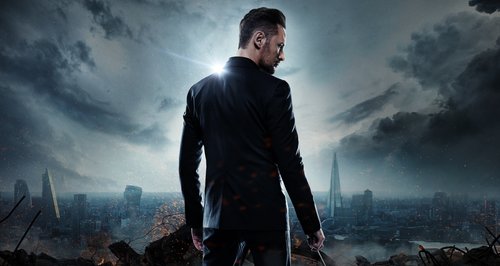 Brian Tyler has composed film music for blockbusters including 'Avengers: Age of Ultron', 'Teenage Mutant Ninja Turtles', 'Iron Man 3' and 'The Expendables'. He'll be conducting a programme of his own music with the Philharmonia Orchestra in London's Royal Festival Hall on 7th May.
How did you get into writing film scores?
My first movie was a very small independent film – I did a series of independent films and then director William Friedkin heard one of my scores and he hired me to do my first studio film with a budget. It was called The Hunted. I always try to write my best music for whatever project I'm working on, and I still love writing for independent films, it's nice to keep it varied.
Whose music has inspired you?
I definitely stand on the shoulders of giants. Star Wars was the gateway drug to symphonic music for me. I was listening to rock and hip-hop at the time and suddenly there's this blast of trumpets and horns – it struck me as something that had an exciting life-force.
What advice would you give to someone trying to become a film music composer?
Getting down to writing music is the first order of business, but I time I think it's important to be a student of film if you want to go into film composing specifically. Musicians can sometimes get really wrapped up in the music and we neglect the fact that we really need to speak the language of film as well. It's your job to make sure you can translate the ideas of a director into music.
Which project or film score are you most proud of and why?
That's like choosing between your children! I'm not really taking sides but I do love the music for Thor: The Dark World – it has a really vast range because of the huge tragedy of the story. And I remember distinctly what a joy it was conducting the Philharmonia for that film.
Is there a film score you'd like to go back and do again?
Oh sure, when I listen back I think 'I might have done that differently'. But you never really want to change it because once it's written and recorded, film scores cease to be mine and become the public's. So although I might, if I had a time machine, go back and changed things, I think it's best that I can't.
Hans Zimmer recently announced his retirement from superhero movies saying he'd 'struggled to find a new language' for his latest score, for Batman vs Superman. Do you worry that something similar might happen to you?
If you're doing a particular kind of superhero film and finding you have to go into a particular musical lane a lot – I get why he's saying that. But I've been bouncing around different franchises and the sounds are very different – from Teenage Mutant Ninja Turtles to Iron Man to Thor. Take Iron Man and Thor – they're both set in the Marvel universe but they're so different because Thor is this god with endless powers while Tony Stark in Iron Man is just a wise-cracking guy who makes an incredible suit. So you have to find a different set of notes, scales and a different tone for all of those superhero films.
Which composer would you most like to go for a pint with and why?
I probably would have said John Williams – but I do actually know him, so I guess that doesn't count? I am fascinated by Bernard Herrmann so I'd be interested in hearing about his approach, his stories of working with Hitchcock. He seemed to be quite a wild personality, it would be nice to have a window into the mind of that genius.
Brian will be conducting a programme of his own film music at London's Royal Festival Hall on Saturday 7th May. Tickets are available from the Philharmonia's website.