Benjamin Britten honoured on new stamp
16 April 2013, 11:21 | Updated: 16 April 2013, 11:33
In his centenary year, composer Benjamin Britten is among the ten 'Great Britons' honoured by Royal Mail in a new set of stamps.
Stamps celebrating the life and music of British composer Benjamin Britten are available from today. The new set of ten first class stamps, entitled Great Britons, recognises the life and achievements of ten individuals who made a significant difference to the world we know today, whose anniversaries of birth or outstanding achievement fall in 2013.

Andrew Hammond, Royal Mail stamps spokesperson, said: "We are delighted to be honouring some of the UK's most distinguished figures in history through our latest special stamp collection.

"We hope the stamps will serve as a lasting tribute to their memory and once again encourage people to remember their significant contribution to our Great British way of life."

Alongside Britten, other Great Britons who feature in the set include John Archer, the first Afro-Caribbean London mayor, archaeologist Mary Leakey, footballer and manager Bill Shankly, photographer Norman Parkinson, actors Vivien Leigh and Peter Cushing, ex-Prime Minister David Lloyd George, food writer Elizabeth David and the broadcaster Richard Dimbleby.

This is one of many celebrations of the composer's life and music in 2013. Highlights of the Britten 100 centenary festival include an open-air performance of Peter Grimes on the beach at Aldeburgh festival, and all 14 of his major operas are set to be performed throughout the year.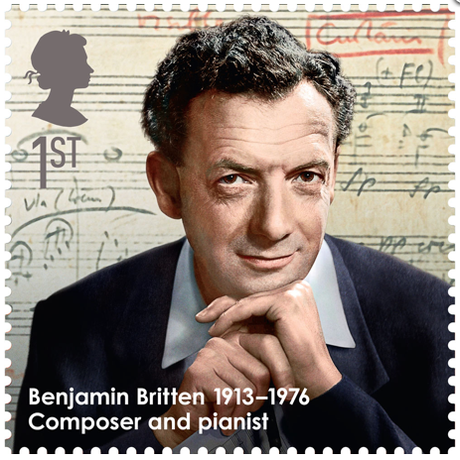 © Stamp Design Royal Mail Group Ltd 2013