Could this lawsuit change music? A viola player is suing the Royal Opera House for damaging his hearing in rehearsal
1 April 2016, 11:27 | Updated: 5 January 2017, 14:08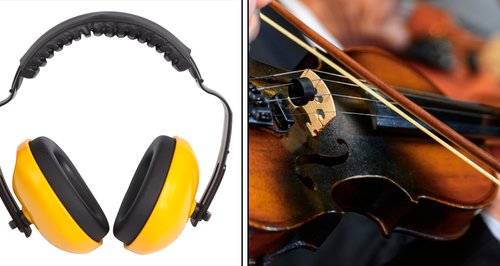 Violist Chris Goldscheider claims his hearing has been irreversibly damaged after rehearsing Wagner, and is now suing the Royal Opera House.
The Royal Opera House has denied any responsibility, declining to comment on the case further: "Mr Goldscheider's compensation claim against the Royal Opera House is a complex medico-legal issue, which has been going on for some time and is still under investigation."

According to court documents obtained by the BBC, the sound level in the orchestra pit during 2012 rehearsals for Wagner's opera 'Die Walker' reached 137 decibels.

As a violist Goldscheider was sitting directly in front of the brass section. He described the effect of this high noise level as 'acoustic shock', that caused permanent damage.

Despite a career spent playing in various orchestras and ensembles internationally, including a show with the Three Tenors at Barcelona's Nou Camp stadium, Goldscheider pinpoints this one Wagner rehearsal as the moment when his health significantly began to suffer.

After this, Goldscheider claimed "Ordinary sounds like banging cups and glasses together is a very painful noise."

"My newborn daughter last year was crying so much I actually got noise-induced vertigo because of my injury and I ended up in bed for three weeks."

What does this mean for the industry?

If Goldscheider were to win this legal case, could it open the door to many other musicians who have suffered hearing damage in the same way? Would we see hundreds of other pit players who have been exposed to high-level audio suddenly mounting legal cases against the world's orchestras and concert venues?

And the case itself raises many interesting questions about an employer's duty of care to its musicians. It may sound trite, but earplug technology has come on leaps and bounds in recent decades and they're readily available. Should the Royal Opera House be doing more to make sure exposed musicians are wearing them? Is it something that most musicians simply do as a matter of course?

Until more details in the case emerge, it's difficult to say. What's undeniable, though, is that Goldscheider's condition is not a new one to face musicians. This account from last year tells of the agony a cellist went through when she literally became afraid of sounds.

The case is ongoing.