If you message Cecilia Bartoli on Facebook, she'll probably message you back
17 October 2017, 17:47 | Updated: 18 October 2017, 11:14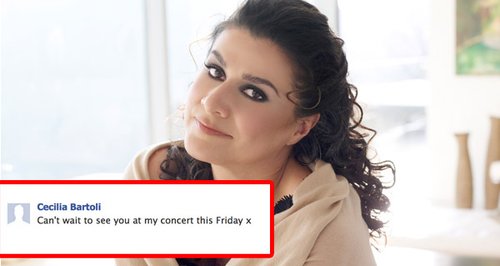 Italian mezzo-soprano Cecilia Bartoli is the first classical artist to have a bot on Facebook – and it's all very exciting.
Decca Classics has created a 'bot' for Cecilia Bartoli's Facebook page. Once you subscribe to the bot, Cecilia can message you with exciting updates about her concert dates, competitions and album releases – and even just a few fun facts.
The best part is, the message will appear as a Facebook message direct to your inbox. So, when you get your muso mates to 'accidentally' look through your Facebook messages, they will 'accidentally' discover that you are real-life Facebook pals with the coloratura star.
And it's going to make you look awesome.
Follow her on Facebook here.
And if you're not already in love with Cecilia, watch her singing 'Non più mesta' from Rossini's La Cenerentola here. It's absolutely lovely.
Buy her new album Dolce Duello here.