Gioachino Rossini (1792–1868)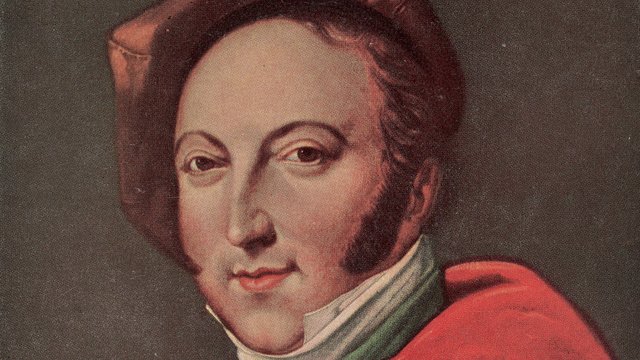 Biography
Life and Music

Having produced a whirlwind series of 38 operas, following the premiere of William Tell in August 1829, and with close on 40 years of life still remaining, he laid down his operatic pen for ever. Perhaps Rossini had finally had enough, as he was once reputed to have remarked: "How wonderful opera would be if there were no singers!"

Rossini was born in Pesaro in 1793, the son of a town trumpeter-cum-inspector of slaughterhouses, whose questionable political sympathies once resulted in a short jail sentence. The family was otherwise constantly on the move, Rossini's mother appearing as a principal singer in a series of comic opera productions, while the budding young composer learned his craft, based in Bologna.

He composed his first opera, Demetrio e Polibio, while still a student at the Liceo Musicale in Bologna, where his love of Mozart led to his being nicknamed, "the German". Such was its success that it led to a series of operatic ventures which initially culminated in the Barber of Seville. When Donizetti heard that Rossini had composed it in a matter of just three weeks, he remarked sardonically: "Rossini always was a lazy fellow."

Rossini's stage output culminated in the premiere of William Tell in Paris in 1829, after which he virtually stopped composing, save for a few songs, piano pieces and two famous large-scale choral works - the Stabat Mater and the Petite Messe Solennelle .

Rossini died at his villa in Passy on 13 November 1868 following a short illness. Having initially been buried in Pere Lachaise cemetery in Paris, his remains were subsequently moved to Santa Croce in Florence in 1887.

Did you know?

For Rossini's 70th birthday celebrations in 1862, a number of his friends clubbed together in order to have a statue built in his honour. His reaction was typically boisterous: "Why not give the money to me and I'll stand on the pedestal myself!"
View more
Rossini: the man
Most shared Rossini features