Joaquín Rodrigo
Biography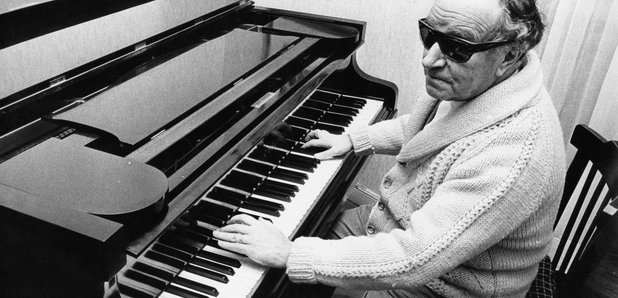 Joaquín Rodrigo (1901–1999) discovered a way of bringing Spanish music into the 20th century. His solution was to exploit singable melody and to use traditional orchestral timbres; or as the musicologist Tomas Marco puts it: "In form, harmony, melody and rhythm, Rodrigo's work might be broadly classified as neo-classical".
Life and Music
Born in Sagunto, Valencia in 1901, Rodrigo fell victim to a diphtheria epidemic when he was just three years old, which left him almost totally blind (his sight was completely gone by 1948).
The disability was the determining factor in Rodrigo's devotion to music, and, for the practicalities of composing, his companion Rafael Ibanez took musical dictations and made copies of his work.
Rodrigo's first big break came in 1924, when the Valencia Symphony Orchestra performed his orchestral work Juglares (Minstrels), and his musical training began in earnest in 1927 when he went to study under Paul Dukas at the Schola Cantorum in Paris.
In 1933 he married the gifted young Turkish pianist Victoria Kamhi, who became his constant companion and inspiration while managing his career.
Rodrigo spent the Spanish Civil War years (1936-9) in Paris and Germany, refining his unashamedly melodious style.
In Madrid in 1939, Rodrigo's first important composition emerged: the Concierto de Aranjuez for guitar and orchestra, the success of which cast a shadow over much of his subsequent work.
Shortly after the war Rodrigo's achievements were officially recognised, when he became Professor of Music at Madrid University. This appointment opened the floodgates for a series of compositions over the next two decades which confirmed him as Spain's greatest living composer.
In his home country he is viewed as something of a national hero, with countless streets and squares being named after him.
Did you know?
Rodrigo named his daughter Cecilia after the patron saint of music. Rodrigo himself was born on St Cecilia's Day. Cecilia went on to marry virtuoso violinist Agustin Leon Ara, who has recorded many of Rodrigo's works.
Find out more about Rodrigo's Fantasia para un Gentilhombre. Watch and listen to different recordings and download your favourite.
Find out more about Rodrigo's Concierto de Aranjuez. Watch and listen to different recordings and download your favourite.
Miloš' first full concerto recording is an energising experience. Album of the Weekend, 22-23 February 2014.
Find out more about the national Spanish treasure, Joaquín Rodrigo
Top Rodrigo Pieces
Conductor: Douglas Boyd
Ensemble: Chamber Orchestra of Europe
Soloists: Charles Ramirez
Record Label: Signum
Catalog: SIGCD 244

Joaquin Rodrigo (1901-1999 : Spain)

Conductor: Enrique Batiz
Ensemble: Mexico State Symphony Orchestra
Soloists: Alfonso Moreno
Record Label: EMI
Catalog: CZS 7674352