Jean-Philippe Rameau (1683-1764)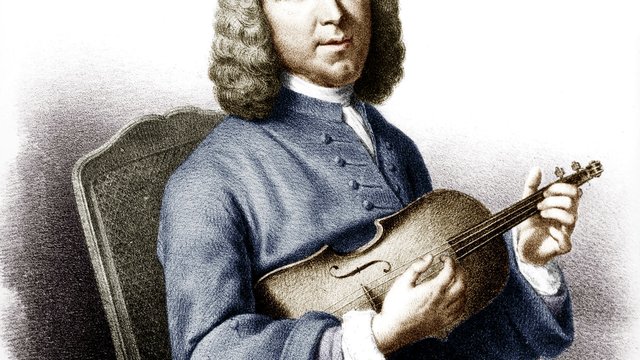 Biography
Life and Music
Rameau was born in Dijon and, like many composers of his day, his love and knowledge of music came about primarily through learning how to play the organ. He began his career as the organist at Clermont Cathedral, before settling in Paris in the early 1720s.

Rameau's seminal Treatise in Harmony was a major publication, seen as an authority in the study and application of music theory. He was as much respected for this as he was for his compositions.

Once he had made Paris his home, Rameau focused almost exclusively on composing Baroque operas, continuing in the tradition of fellow French composer Lully (a man who died after accidentally hitting himself in the foot with a conducting stick, which led to gangrene – but that's another story altogether…).

Prior to his focus on opera, Rameau composed various sets of music for the harpsichord – and, towards the end of his life, he also wrote a series of suites for flute and violin.

Although an accomplished musician, poor Rameau wasn't much of a looker: his extremely large nose meant he fares quite poorly when it comes to compiling a list of the most handsome composers.

Did You Know?
Like a number of other composers, Rameau had a rich patron to thank for being able to focus on music full-time. He lived in the house of a wealthy amateur musician, who even gave Rameau his own apartment to work in for free.
View more
Rameau: the man
Top Rameau pieces
Danse du Grande Calumet de la Paix
Jean-Philippe Rameau (1683-1764 : France)
Conductor: Marc Minkowski
Ensemble: Les Musiciens du Louvre
Record label: Archiv
Catalogue ID: 4775578
Les Indes Galantes - Overture
Jean-Philippe Rameau (1683-1764 : France)
Conductor: Christophe Rousset
Ensemble: Les Talens Lyriques
Record label: Decca
Catalogue ID: 4762596
Les Surprises de l'Amour - Act I
Jean-Philippe Rameau (1683-1764 : France)
Conductor: Christophe Rousset
Ensemble: Les Talens Lyriques
Record label: Decca
Catalogue ID: 4762596
Most shared Rameau features