Aaron Copland (1900–1990)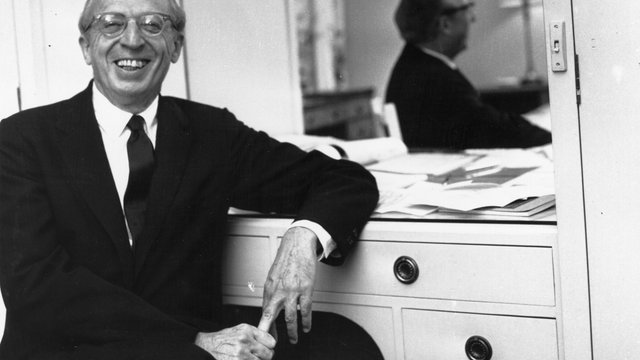 Biography
Life and Music
Copland's musical gifts were obvious from the start. By the age of five he was inseparable from the family piano, while childhood visits to see Walter Damrosch conduct the New York Symphony and Isadora Duncan as a member of Diaghilev's Ballets Russes company sparked his imagination.

Copland started composing seriously after he began piano studies with Rubin Goldmark in 1917. His first published piece was The Cat and the Mouse, a Debussyian miniature for solo piano.

Copland spent three years in Paris between 1921 and 1924, studying with Nadia Boulanger.

His return to New York was marked not only by such exuberant orchestral pieces as Music for the Theatre and the jazz-orientated Piano Concerto, but also a new enthusiasm for a whole range of other musical disciplines, including lecturing, concertising (as pianist), and lending enthusiastic support to the work of local music societies.

By the late 1930s Copland had developed a magical sound-world that seemed to encapsulate the North American pioneering spirit. His impact on American musical culture was on a par with his friend and supporter Leonard Bernstein.

The extraordinary success of El Salon Mexico ushered in a decade of intense activity which embraced many of Copland's most celebrated pieces, including Fanfare for the Common Man and three popular ballets, Billy the Kid, Rodeo and Appalachian Spring.

His many awards included an Oscar for his 1948 film score to The Heiress, honorary doctorates from several universities (including our own York), and a Pulitzer Prize in 1945 for Appalachian Spring.

By the time of his death in 1990, Copland was widely acknowledged to be one of the world's finest composers and musical educators.

Did you know?
Copland's best known work is called Fanfare for the Common Man, and it is now used at American presidential inaugurations.
View more
Copland: the man
Most shared Copland features