Anton Bruckner (1824–1896)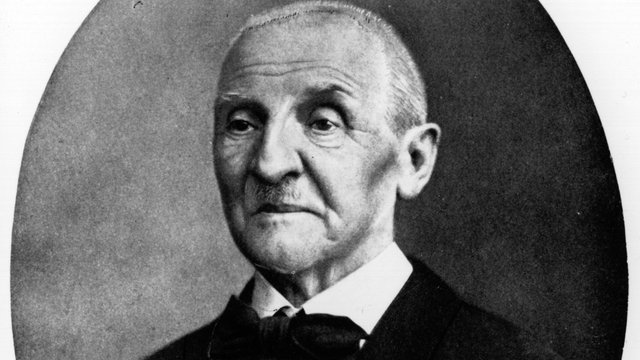 Biography
Life and Music
Bruckner's father was the local church organist and his mother a singer in the choir. However, he didn't begin his formal music training until he was 11, when he spent five years as a choirboy at the monastery of St Florian (near Linz).

Starting out professional life as a music teacher, Bruckner made a few attempts at small-scale composition, although it was not until 1848 that he felt inspired to produce his first notable work, the Requiem in D minor.

Having been appointed organist back at St Florian, most of Bruckner's energies remained on teaching and the organ, an instrument upon which he had become widely recognised as one of Europe's greatest exponents.

On attending a performance of Richard Wagner's Tannhäuser, the 38-year-old Bruckner felt driven to make composition his main vocation.

Inspired by Wagner's example, he set to work on an Overture in G minor and the (unnumbered) Symphony in F minor, which were gradually followed over the next three years by Symphonies Nos. '0' and 1, and his first indisputable masterpiece, the Mass in D minor of 1864.

The sheer strain caused by the hours of constant study in addition to his professional responsibilities, resulted in an acute nervous collapse early in 1867.

Recovered, in 1867 he took a teaching post in Vienna at the Gesellschaft der Musikfreunde.

In 1875, Bruckner became the first lecturer in harmony and counterpoint at the University of Vienna.

Bruckner's final years were largely devoted to the composition of the Ninth Symphony, which remained tantalisingly incomplete at the time of his death.

Did you know?
Bruckner took a Vienna Conservatory diploma, at which Johann Herbeck, the chief examiner and distinguished conductor, exclaimed: "He should have examined us! If I knew just one tenth of what he knows, I'd be happy."
View more
Bruckner: the man
Top Bruckner pieces
1
Symphony No. 7 in E major (4)
Anton Bruckner
2
Symphony No. 8 in C minor (1)
Anton Bruckner
Most shared Bruckner features