A summery wrap bursting with seasonal flavours.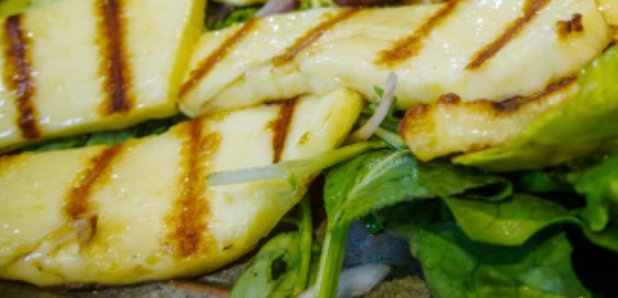 Halloumi and guacamole wraps
Saturday 28 June 2014

Anne-Marie Minhall says, "There are some times during a weekend when it just feels right to be sat with your feet up on the sofa, the paper by your side, with Classic FM on. For your lunch - I suggest a summery wrap which is full to bursting with seasonal flavours. What I really love about this is the contrast between the toasty, golden halloumi and the squishy, sharp deliciousness of the guacomole."


Ingredients
(serves two)

125g halloumi, sliced

1 egg, beaten

50g breadcrumbs (panko ones are really good)

1 tbsp rapeseed oil

2 tortilla wraps, warmed

Generous helping of salad leaves of your choice

1 ripe avocado

1/2 a red onion, finely chopped

2 limes, halved

Handful mint leaves,chopped

1 red chilli, deseeded and finely chopped
Seasoning

Method


The first step is to get that guacamole made. Simply slice the avocado in half and scoop out the flesh into a bowl. Squeeze the juice of the lime over the avocado to stop it turning brown, (not to mention adding gorgeously citrus flavour). Next, add the onion, mint and chilli, stir and
season.
In a non-stick frying pan, heat the rapeseed oil. Dip each halloumi slice into the beaten egg before dipping into the breadcrumbs. Make sure each slice is coated really well.
Fry the crumbed halloumi for 3 minutes on each side until golden before removing and draining on kitchen roll. Keep an eye on it as if it's too long in the pan, it can turn a bit rubbery. Whilst the cheese is cooking, grill the tortillas under a gentle heat to warm them through.
Onto the wraps, spoon some guacamole in the centre before topping with the slices of halloumi and a handful of the salad leaves.
More lime juice squeezed over the wraps is the perfect finish.
Now, just bag the best place on the sofa!